Catawba College Once Again Ranked in the Top 10 in US News & World Report's Best Colleges Guide
Catawba College is delighted to announce its outstanding performance in the 2024 US News & World Report Best College rankings, further solidifying its position as a premier institution of higher education in the South. The rankings, released today, September 18th, showcase Catawba's commitment to excellence in education, innovation, social mobility, and affordability.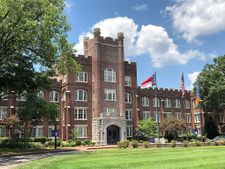 News Categories
Explore all the exciting things going on at Catawba College.
September 21, 2023 - September 21, 2023
Center for the Environment & Shuford Science Community Open House
Catawba College is inviting the Salisbury/Rowan communities to join them for an open house and tours to celebrate the re-opening of the Center for the Environment and Shuford Science on Thursday, September 21st, from 5 – 7 pm. Light appetizers and beverages will be available for attendees as they tour the new facilities and see some of the new labs in action.