February 4, 2023 - February 4, 2023
Catawba Baseball First Pitch Dinner
February 4, 2023 - February 4, 2023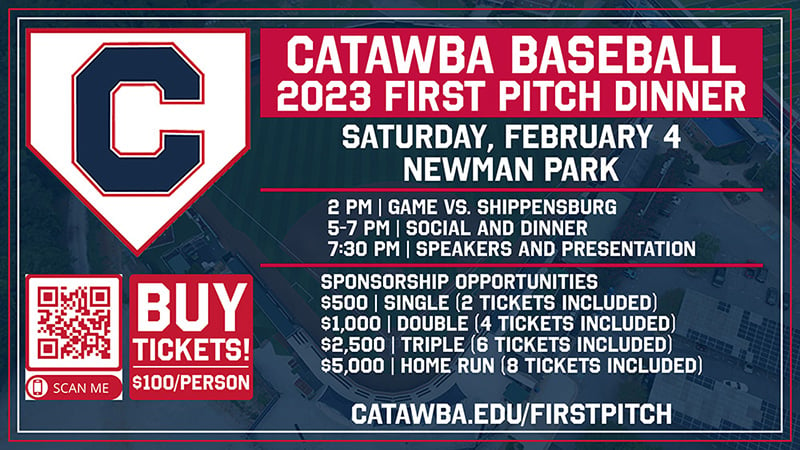 The 2023 First Pitch Dinner will be held on Saturday, February 4 at Newman Park. The annual fundraising event, which features adinner, speakers, and a presentation, will benefit the 2023 Catawba Baseball season.
Schedule
2 PM: Game vs. Shippensburg
5-7 PM: Social and Dinner
7:30 PM: Speakers and Presentation
Location: Newman Park
Event Information
Tickets: $100/person (includes meal, beer and wine. Catered by Jim 'N Nick's Bar-B-Q)
Keynote Speaker: Grady Little, former Boston Red Sox and Los Angeles Dodgers manager
Special Remarks: Steve Shaughnessy, former Catawba head baseball and football coach
Master of Ceremonies: Doug Rice, President and General Manager, Performance Racing Network
Special Considerations:
Please consider making an additional gift to support to our organization. Also, consider purchasing a ticket for one of the Catawba Baseball players to attend the event.

Sponsorship Opportunities
Please consider the following sponsorship packages in support of the 2023 Catawba Baseball season.
$500 – Single (2 tickets included)
$1,000 – Double (4 tickets included)
$2,500 – Triple (6 tickets included)
$5,000 – Home Run (8 tickets included)

All proceeds support the 2023 spring season of Catawba Baseball