I will continue to send updates and information out about our Chiefs Club and Catawba Athletics, but it will now be every other Monday through June 2020.
View the Current Chiefs Club Membership
Join The Chiefs Club Today
We are within 47 members of reaching our goal of 750.
As of today, our Catawba Chiefs Club membership is at 703 which includes 278 new members, and our business listing promo has grown to 85 business listings.
Ryan Dayvault '08 is our 700th Chiefs Club member. Dayvault was the Alpha Chi Honor Society Vice President for two years, the Senior Class Vice President, and the Political Science Association Vice President. He was also on the Student Advisory Board, member of Order of Blue and White, and the Whitener Award recipient. Dayvault is now the Facilities Manager for the UNC-Chapel Hill Nutrition Research Institute in Kannapolis.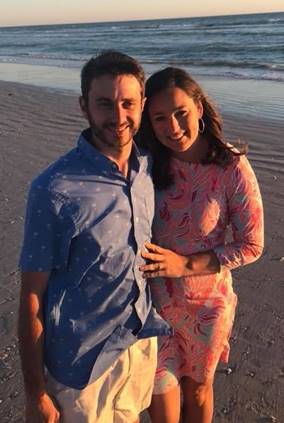 Gina Ayala '03, a former player on the Catawba Women's Tennis team, just helped us get one step closer to our goal of 750 Chiefs Club members.


Congratulations to Coach Rob Perron on your 100th career win at Catawba.
Presenting a special recognition crystal vase to Perron below is Jeff Childress, Associate Athletic Director for Athletic Development, and Director of Athletics, Larry Leckonby.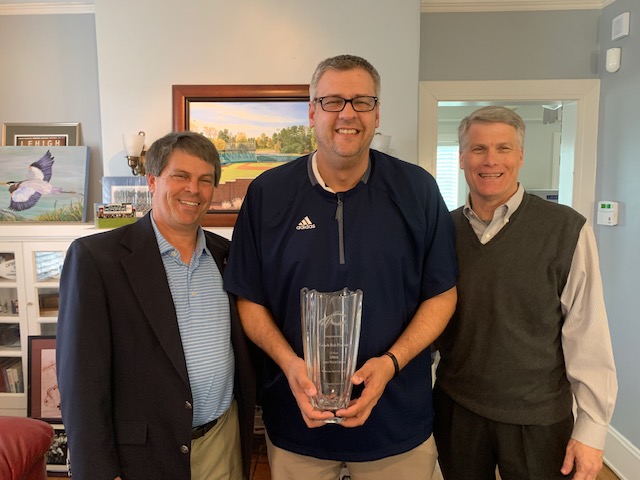 Tanner Bibey named AC Men's Golfer of the Week. Read More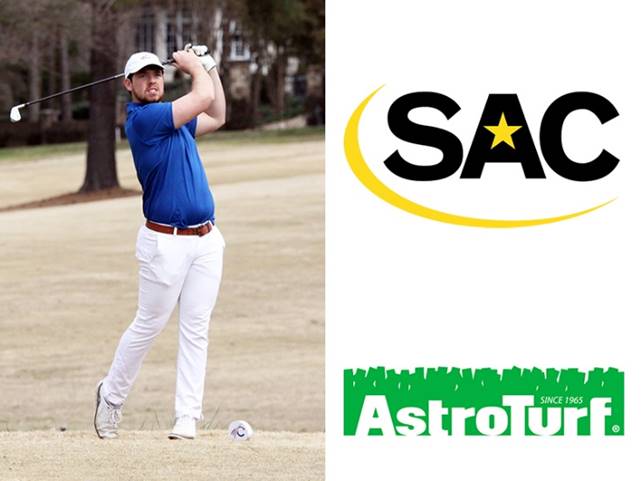 Tuesday, March 10th
Baseball vs. Ohio Dominican at Fleming Field – Barton College, Wilson, NC - Won 17-0 - Read More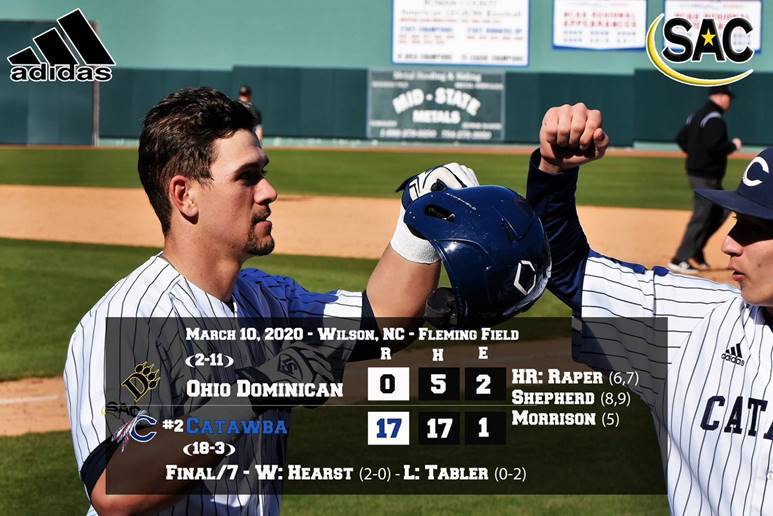 Wednesday, March 11th
Women's Tennis – Wingate – Lost 7-0 - Read More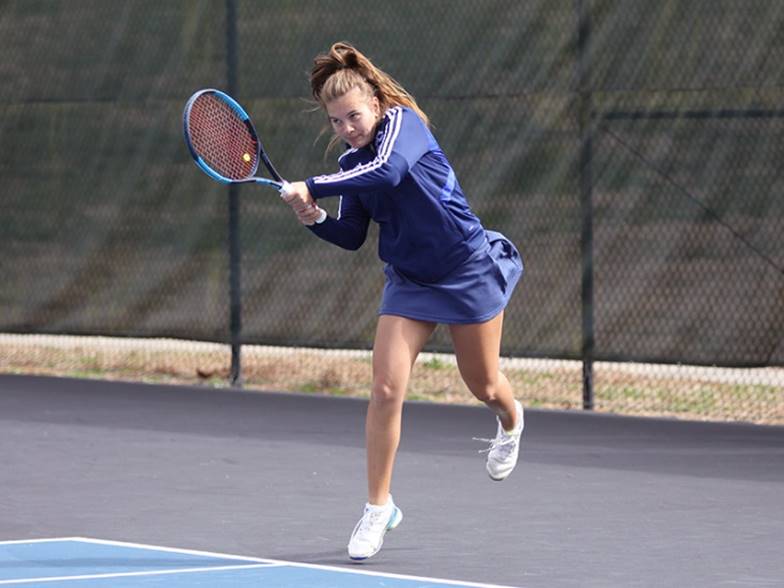 Men's Tennis – Wingate – Lost 5-2 - Read More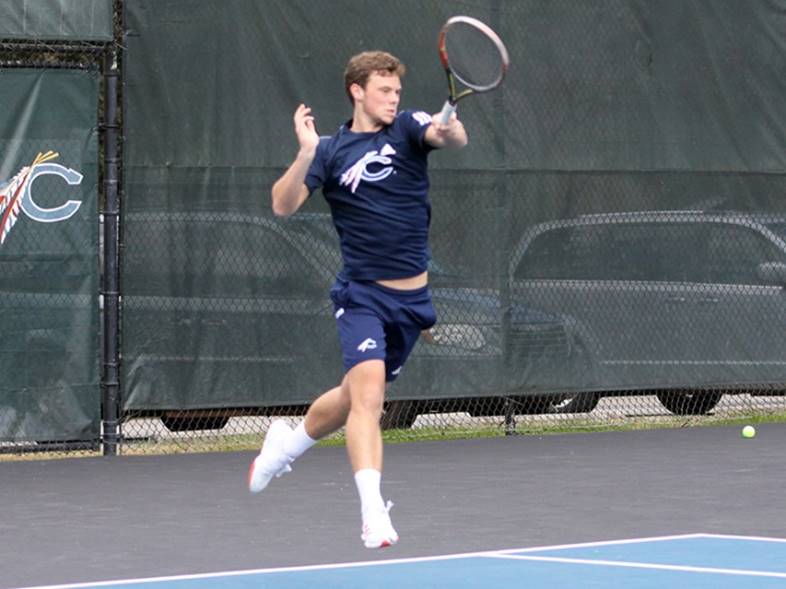 Men's Lacrosse – Assumption – Won 12-9 - Read More

Baseball vs. California (PA) at Fleming Field – Barton College, Wilson, NC - Won 12-9 - Read More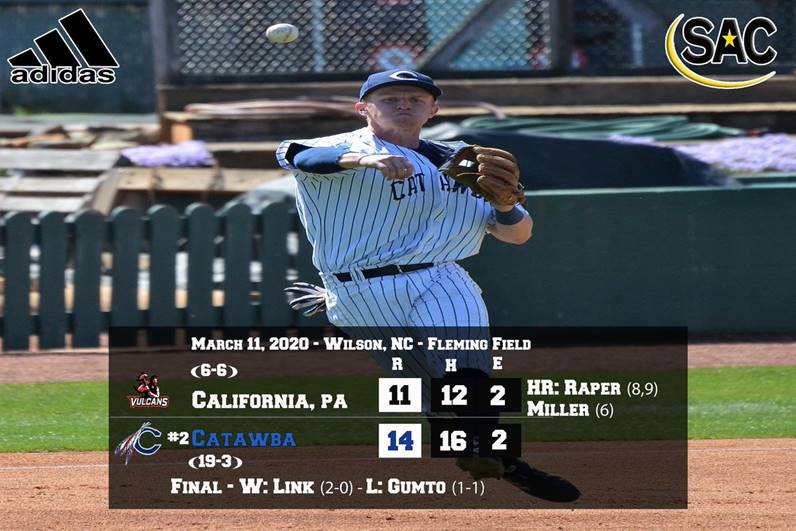 The SAC and Its Member Institutions Cancel Remaining Athletic Competitions For 2019-20
3/12/2020
ROCK HILL, S.C. (TheSAC.com) -- The South Atlantic Conference and its member institutions continue to assess the impact of COVID-19 in consultation with public health and medical professionals, as such the SAC Presidents Council has made the decision to cancel all spring athletics competition and practice for the remainder of the 2019-20 academic year. This includes all SAC spring sports championships.

This decision comes after the statement issued by the NCAA on Thursday (March 12) canceling the remaining winter championships and all spring championships for NCAA Divisions I, II and III.

"This is uncharted territory and we are looking out for the health and safety of our student-athletes, coaches, administrators and staff," said SAC Commissioner Patrick Britz. "I want to thank the presidents and athletic directors of the SAC for helping us make a swift and difficult decision that none of us wanted to make, but it is in the best interest of everyone as a whole."

The SAC will continue to monitor the situation and will make any adjustments to future events if necessary.
Earlier Announcement from NCAA
INDIANAPOLIS, Ind. - The NCAA has determined that all winter and spring championship are canceled, effective immediately.

This announcement, made by the NCAA late Thursday afternoon, includes the 2020 NCAA Division II Men's Basketball Southeast Regional Championship, which was scheduled to be played Saturday-Tuesday, March 14-17 inside Tex Turner Arena in Harrogate, Tennessee.

NCAA President Mark Emmert issued the following statement:

"This decision is based on the evolving COVID-19 public health threat, our ability to ensure the events do not contribute to spread of the pandemic, and the impracticality of hosting such events at any time during this academic year given ongoing decisions by other entities."

An official release from the NCAA is located on NCAA.org.



The CLASS Act Dinner 2020 will be rescheduled. We are looking for dates in the fall 2020 to reschedule that event.

We will be celebrating the 2000 Catawba Cheerleading team at our October 10th, 2020 home Football game. It's been 20 years since they won the National Championship.