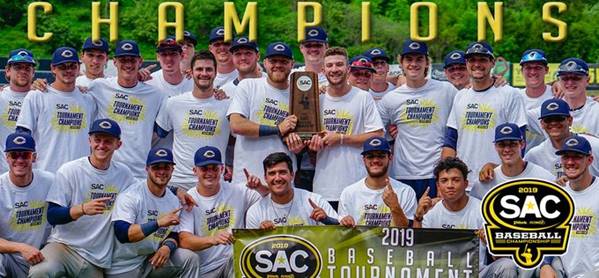 2019 Catawba Baseball - SAC Champions: For the past seven years, Catawba Baseball has either won the SAC regular season or the SAC conference tournament.
Hunter Shepherd named SAC Baseball Tournament MVP. Read More.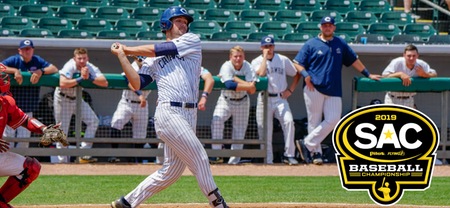 Hunter Shepherd – Junior – Salisbury, NC.
Our 2018-2019 Catawba Chiefs Club membership campaign is starting to wind down. For the second year in a row, we had over 500 members, including over 100 new members, who helped sponsor and organize 14 special events that benefited our Chiefs Club and Catawba Athletics. I feel very strongly that OUR Chiefs Club Board is one of the hardest working groups of people, and that is the main reason OUR Catawba Chiefs Club continue to grow and grow.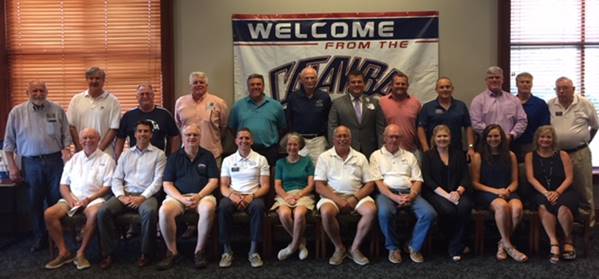 Soon we will start working on our 2019-2020 Chiefs Club membership campaign. As always, we hope you will again help to support OUR Catawba Chiefs Club this coming year and also help us find a few more Chiefs Club members. Our Chiefs Club renewal mailing for 2019-2020 will go out the first week in June. We sure could use your help to spread the word about OUR Catawba Chiefs Club. Members enjoy a weekly Chiefs Club e-newsletter and their support is tax deductible. They also get the satisfaction of helping support Catawba's 500+ student-athletes, 23 varsity teams, and their coaching staff. Our goal this year is to build on our 2018-2019 Chiefs Club membership of 520. We need to get more of our former student-athletes to help support THEIR Chiefs Club, which raises money to help offset the cost of our 117 athletic scholarships. We also would like to grow our corporate sponsorships.
Help spread the word about OUR Catawba Chiefs Club. Forward this email to as many of your former teammates, friends, and classmates from Catawba as you can.
Our current Chiefs Club membership is growing. We now have over 500 Chiefs Club members for the second year in a row! Forward this email to anyone you think would be interested in helping support OUR Catawba Chiefs Club.
View the Current Chiefs Club Membership
Join The Chiefs Club Today



Current Chiefs Club Membership Business Listings
Allergy Partners
Bear Insurance
Chick-Fil-A - Salisbury
The College Barbecue
Dales Sporting Goods
Davis Law Firm
F & M Bank
Fisher-Greene Insurance Agency
Graeber and Associates
Godley's Garden Center
The Hot Dog Shack
Il Colosseo Italian Restaurant
Koontz and Smith Attorneys at Law
McCanless Golf Course
Mid Carolina Electric
Clint Miller Exterminating Inc.
Mykynos - Salisbury
NC Pediatric Dentistry
Novant
RDS Services
The Revival Golf Course
Rushco Oil Company
The Salisbury Post
Stout Heating and Air
Tailgate America
The Warrior Golf Club
WSAT Radio