Update from the Provost: 7/21
July 21, 2020
Dear Students and Families,

We are excited to welcome you back to campus soon.  It is hard to believe that Fall classes will begin in one month!  Our priority is to bring you back to campus, but in a way that is safe and protects the health and well-being of you and our entire campus community.
Each week until classes begin, you will receive a Weekly Update from the Provost to keep you informed of various details of our Return to Catawba Plan, which emphasizes:
| | |
| --- | --- |
| • | Protecting ourselves – daily self-monitoring; frequent hand washing and sanitizing |
| • | Protecting others – maintain physical distancing, stay home if sick or symptomatic, wear face covering |
| • | Protecting the Catawba community – keep academic and work spaces clean, participate in testing and contact tracing, follow traffic pattern, stairwell, and entry/exit signs. |
I wanted to share with you some details about how your classroom experience will look in the Fall: 
Protecting ourselves and each other in the Classroom:  
Our best tools in preventing the spread of COVID-19 are physical distancing and face coverings.  Maintaining a physical distance of at least 6 ft and wearing a cloth face mask that covers the mouth and nose greatly reduces the probability of viral particles spreading in respiratory droplets.  Because of this, we will require all members of our campus family to wear cloth face coverings while in classrooms and common spaces.  Additionally, we will have hand sanitizing stations and cleaning supplies readily available for cleaning work surfaces, equipment, and tools. 
Physical Distancing and the Classroom Experience: 
Your faculty have been hard at work this summer designing strategies for delivering you an excellent learning experience in the Fall.  Because of our already small class sizes, we have the fortune of flexibility in how we deliver our courses and still maintain the recommended physical spacing between participants in the classroom. 
Face-to-Face – some of your classes will be conducted very much normally, with regularly scheduled class meetings where the professor and all students are together in the same room.  Again, with our already small class sizes, we can do this with some rearrangement or rooms and furniture. 
Hybrid -  Some of your classes may be offered in a hybrid format, where you meet in the classroom for some class sessions, and meet virtually for other class sessions.  This will allow us to reduce the number of class participants together in the room at the same time, but still preserve face-to-face instruction. 
Online -  Finally, a few of your classes may be converted to online delivery.  In these courses, the use of remote learning technology can enhance the learning experience.  To prepare for online delivery, your professors have been engaged in additional professional development and training this summer to develop effective techniques for teaching you remotely. 
How will you know how YOUR courses are being taught?  In the next couple weeks, your professors will contact you by email and describe what they have planned for your course – whether it is normal face-to-face, hybrid, or completely online.  Additionally, we are already in the process of updating CatLink to show which courses are going online. 
Computers and Computer Labs: 
Computers and other shared equipment present an opportunity for contamination and spread of COVID-19.  For this reason, we ask that you bring a personal computer to campus for your use.  While a laptop-style device is recommended, the style, brand, and specifications are flexible and personal choice.  At minimum, the computer should have a camera and microphone for virtual participation in classes, as well as the capabilities for successfully accessing Blackboard, Office 360, and other software and web resources that may be used in classes.
After-class access to computer labs will be limited, so that we can maintain proper cleaning of the equipment.  Additionally, we are making changes to computer labs to protect your health.  First, we are temporarily reducing occupancy in computer labs so there is more physical distance between devices.  Additionally, we are replacing all keyboards and mice with waterproof versions that are easily sanitized between use. 
While the Fall may look different than past semesters, some things will always be the same.  Catawba's true value and mission will always be to offer an education rich in personal attention that helps you reach your highest potential. 
You may have additional questions, concerns, or feedback.  Please feel free to contact me using the "Ask the Provost" form. 

Additional Information on the Return to Catawba plan:
 Required Daily Self-Health Monitoring – Download the MyCatawba App Today 
Catawba has developed a list of questions for students and employees to review and complete every day before entering campus.
The easiest way to complete the self-health monitoring questionnaire is by downloading the MyCatawba Mobile App to complete the assessment each day on your Apple or Android Device. To learn how to download the MyCatawba app and complete the daily self-health questionnaire, view the brief tutorial video.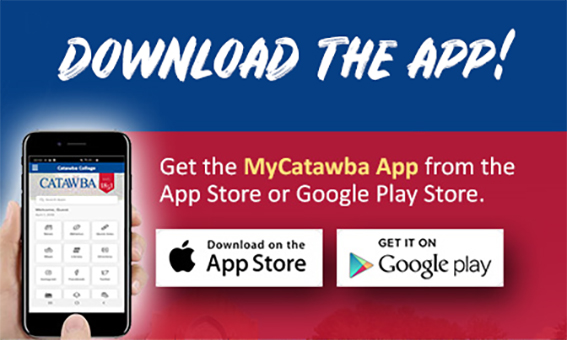 Learn more at catawba.edu/returntocatawba.
See you very soon!
Constance Rogers-Lowery Ph.D. 
Provost and Senior Vice President for Academic Affairs