Update from the Provost: 8/27
August 28, 2020
Dear Students and Families,

It is great to see so many faces (properly masked) on campus!  We are so excited to have you back.  Please be sure to continue to wear your mask properly.
Please make sure you wear your mask at all times while in classrooms and indoor common spaces (including hallways).
Please wear your mask outdoors if you will be close to other people, such as when you walk on sidewalks to and from buildings or at gathering places.
Please make sure your mask covers your mouth AND nose as you wear it.  It doesn't really work otherwise J.
And finally, studies suggest that LAYERS are important in the effectiveness of masks.  Therefore, single layer covers, such as neck gaiters, are likely not effective. Additionally, our campus policy does not allow for masks with vents.
Keep up the good work!
Travel:  With a holiday weekend approaching, I wanted to remind you that if you travel by mass transit (plane, train, or bus), we will require that you self-quarantine.  If at all possible, please avoid using these forms of travel. 
View previous Updates from the Provost, discussing:
While the Fall may look different than past semesters, some things will always be the same.  Catawba's true value and mission will always be to offer an education rich in personal attention that helps you reach your highest potential. 
You may have additional questions, concerns, or feedback.  Please feel free to contact me using the "Ask the Provost" form.
Additional Information on the Return to Catawba plan:
Required Daily Self-Health Monitoring – Download the MyCatawba App Today
Catawba has developed a list of questions for students and employees to review and complete every day before entering campus.
The easiest way to complete the self-health monitoring questionnaire is by downloading the MyCatawba Mobile App to complete the assessment each day on your Apple or Android Device. To learn how to download the MyCatawba app and complete the daily self-health questionnaire, view the brief tutorial video.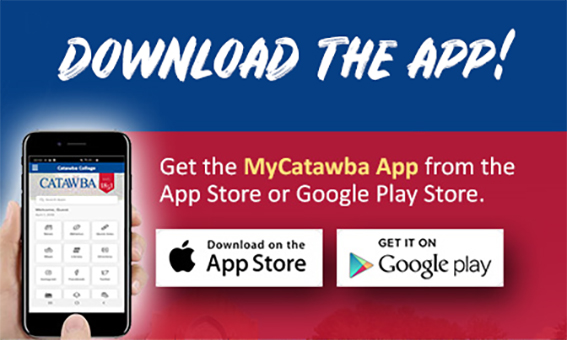 Constance Rogers-Lowery Ph.D. 
Provost and Senior Vice President for Academic Affairs