Update from the Provost: 8/3
August 3, 2020
Dear Students and Families,

Each week until classes begin, you will receive a Weekly Update from the Provost to keep you informed of various details of our Return to Catawba Plan, which emphasizes:
| | |
| --- | --- |
| • | Protecting ourselves – daily self-monitoring; frequent hand washing and sanitizing |
| • | Protecting others – maintain physical distancing, stay home if sick or symptomatic, wear face covering |
| • | Protecting the Catawba community – keep academic and work spaces clean, participate in testing and contact tracing, follow traffic pattern, stairwell, and entry/exit signs. |

View previous Update from the Provost here, which discusses physical distancing in the classroom and face-to-face, hybrid, and online classes. 
View last week's Update from the Provost here, which discusses daily safety protocols, internships and work-study, and mental and emotional well-being. 
This week, I wanted to share with you some suggestions on how to be prepared for a safe learning experience, as well as information on the Bookstore and the Library: 
Things to bring:  
 

Face coverings

 – All members of our campus community are required to wear face coverings/masks while in classrooms, common spaces, and other indoor and outdoor locations where physical distancing is difficult.  The College will provide all student 2 masks, but you may wish to try several different types of face coverings to find one that feels comfortable, but still cover your mouth and nose completely. 
Thermometer

 – All members of our campus community are required to complete a daily self-evaluation, including taking their temperature.  Several temperature kiosks will be located on campus; however, you are encouraged to bring your own thermometer to monitor your temperature.  
Personal computer

 - Computers and other shared equipment present an opportunity for contamination and spread of COVID-19.  For this reason, we ask that you bring a personal computer to campus for 

your

 use.  While a laptop-style device is recommended, the style, brand, and specifications are flexible and personal choice.  At minimum, the computer should have a camera and microphone for virtual participation in classes, as well as the capabilities for successfully accessing Blackboard, Office 360, and other software and web resources that may be used in classes. 
Hand sanitizer and cleaning supplies

 – Hand sanitizing stations will be located around campus, and cleaning supplies will be available in classrooms for sanitizing workspaces.  Having a personal supply of hand sanitizer and cleaning supplies, such as disinfectant wipes and spray, will be useful in sanitizing your personal spaces. 
Quarantine bag

 – You may want to pre-pack and bring a small bag that contains clothes, pajamas, extra phone/computer charger, prescription drugs, and personal care items (for example, extra toothbrush, toothpaste, and other toiletries) for 3-4 days.  This bag can be easily found by a roommate, RA, or other staff member, in the event that you need to move to a quarantine location.  Include a copy of your medical insurance information for easy reference, if needed. 
Campus Bookstore: 
You can purchase or rent your textbooks and other supplies at the campus bookstore.  The bookstore is open Monday-Friday 9AM to 4PM, with limited occupancy (15 customers) to allow for safe physical distancing.  Please follow the directional signs on the floor indicating flow of traffic around the store.  Customers must to wear face coverings and practice physical distancing while inside the store 
For your safety and convenience, you can place orders online (http://www.catawbacshop.com) for in store pick up for free and we will have your books ready for you when you arrive.  Online orders may be picked up at the door next to the elevator.  Please bring your ID when you claim your order.  Please place your order by August 10th if you would like your books shipped to a local address. 
Purchasing texts using financial aid will be available starting August 8th and you can place orders online using the number on the back of your Student ID for payment.  Please note that clothing and gift items are not allowed on Financial Aid. 
The Bookstore is regularly open Monday – Friday 9AM-4PM and accepts cash, credit, and campus card as payments.  Expanded shopping hours are available on Saturday, August 15th 9AM-3PM and Sunday, August 16th 11AM-2PM, for your convenience. 
Corriher-Linn-Black Library: 
We have made many changes to furniture layout, signage, and procedures to promote healthy habits when our full community returns to campus.  Entrance to Corriher-Linn-Black Library all hours will be by Catawba ONE Card access only.  You must use your Catawba ONE Card to gain entry to the building. No outside guests will be granted access into the library except for official institutional business.  You will be able to browse and borrow materials from our collections; however, for the safety of our patrons and staff, all returned materials will be quarantined for a minimum of 72 hours before being checked-in and make available for circulation

Fall 2020 Hours
Monday – Thursday, 8:00am – 11:00pm
Friday, 8:00am – 5:00pm
Saturday, Closed
Sunday, 3:00pm – 11:00pm 
Remote Services?& Accessing Library Resources from Off-Campus
Our full schedule of library research support continues to be available remotely.?

If you have questions regarding these changes, please contact: Earl Givens Jr, Dean of Learning Resources and Library Director. ebgivens15@catawba.edu 
While the Fall may look different than past semesters, some things will always be the same.  Catawba's true value and mission will always be to offer an education rich in personal attention that helps you reach your highest potential. 
You may have additional questions, concerns, or feedback.  Please feel free to contact me using the "Ask the Provost" form. 
Additional Information on the Return to Catawba plan:
Required Daily Self-Health Monitoring – Download the MyCatawba App Today
Catawba has developed a list of questions for students and employees to review and complete every day before entering campus.
The easiest way to complete the self-health monitoring questionnaire is by downloading the MyCatawba Mobile App to complete the assessment each day on your Apple or Android Device. To learn how to download the MyCatawba app and complete the daily self-health questionnaire, view the brief tutorial video.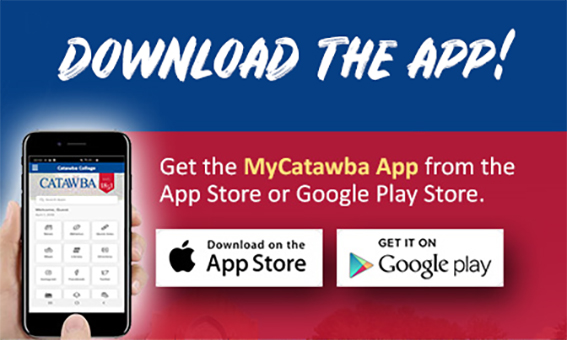 See you very soon!
Constance Rogers-Lowery Ph.D. 
Provost and Senior Vice President for Academic Affairs