Update from the Provost: 9/29
September 30, 2020
Dear Students and Families,
It is hard to believe that we are almost half way finished with the semester!  On our COVID-19 data dashboard, you will notice that we are still holding stable on the number of confirmed COVID-19 cases and the number of students in quarantine.  Therefore, we are still in GREEN status in our "Go Remote"/ Re-Exit Plan.  We are grateful for your commitment to following our Care About Catawba Pledge to protect yourself and others.
Catawba Cares Reminders!  I had planned to use this update to provide some reminders about the Catawba Cares plan and how to stay safe.  However, I figure that it would be more enjoyable to hear these reminders from your peers.  Please watch this video, starring SGA leaders, RAs, and Wellness/Health Promotions staff, containing reminders about our COVID-19 policies.
SlowCOVIDNC App.  Catawba College has joined other colleges in NC to promote the use of the SlowCOVIDNC app.  After downloaded to your phone, the app uses Bluetooth to help with contact tracing, in the event that you or someone with whom you come in contact tests positive for COVID-19.  If you do come into contact with someone that reports a positive case of COVID-19, you will receive notification so that you can seek the advice of a medical professional.  For more information on how the app works and information for opting-in, please visit Catawba.edu/slowcovid
View previous Updates from the Provost, discussing:
While Fall and the upcoming Spring Semesters look different than past semesters, some things will always be the same.  Catawba's true value and mission will always be to offer an education rich in personal attention that helps you reach your highest potential. 
Additional Information on the Return to Catawba plan:
Required Daily Self-Health Monitoring – Download the MyCatawba App Today
Catawba has developed a list of questions for students and employees to review and complete every day before entering campus.
The easiest way to complete the self-health monitoring questionnaire is by downloading the MyCatawba Mobile App to complete the assessment each day on your Apple or Android Device. To learn how to download the MyCatawba app and complete the daily self-health questionnaire, view the brief tutorial video.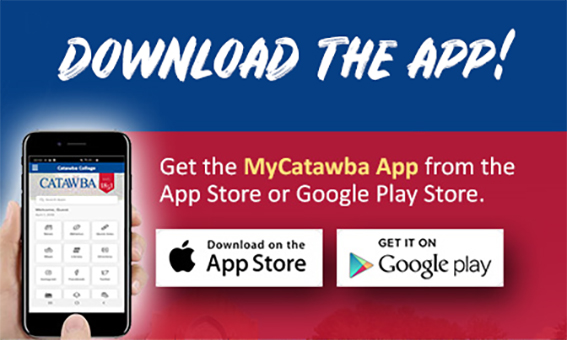 Constance Rogers-Lowery Ph.D. 
Provost and Senior Vice President for Academic Affairs