Update from the Provost: 9/3
September 3, 2020
Dear Students and Families,
We are nearing the end of our 3rd week of classes!  Our semester has been…. different than usual.  However, Catawba seems to be doing well with our response to COVID-19.  We appreciate everyone's diligence and hard work in keeping to the Care About Catawba Pledge.  Keep up the good work!
Travel:  With the Labor Day weekend approaching, I wanted to remind you that if you travel by mass transit (plane, train, or bus), we will require that you self-quarantine for 5 days on your return.  If you know you will be traveling by plane, train, or bus, please complete this form. 
For advice on how to protect yourself during travel, see CDC's website on Travel during the COVID-19 Pandemic. 
Data Dashboard:  Our Return to Catawba website is a great resource for information on COVID-19 and Catawba's actions to safeguard the health and wellbeing of our campus family.  You can also find data on the numbers of COVID-19 cases on campus, as well as the numbers of students and employees that are in quarantine or isolation.  The data dashboard will be updated daily (Monday through Friday).  As you can see, our numbers are currently positive (and the good kind of "positive" at that). 
The terms isolation and quarantine can be easily confused.  Both involve separating individuals from other people.  Isolation occurs when the individual has a confirmed case of COVID-19.  On the other hand, quarantine occurs when the individual is awaiting the results of a COVID-19 test, has symptoms of concern and is being monitored by health professionals, or has been in close contact with someone with a confirmed case of COVID-19.  Individuals in quarantine are waiting on results or are within the incubation period of the novel coronavirus. 
Check out these links for COVID-19 statistics in Rowan County and North Carolina. 
"Go Remote" / Re-Exit Plan:  We all want to keep campus open, and we are each doing our part to meet that goal.  However, the College is continuously evaluating our campus conditions and the guidance of local, state, and federal agencies to determine IF we must go to remote learning.  The "Go Remote"/ Re-Exit Plan has four stages of urgency:  green, yellow, orange, and red.  Our status in each stage is determined by factors such as numbers of students quarantined/isolated, our ability to provide services to our campus community, guidance or mandate from local or state health departments, etc.  Each stage will also have different actions we will take to reduce potential spread of COVID-19 on campus.  The good news is we are currently in GREEN!  Let us all work together to prevent us from going to RED, which means we go remote. 
View previous Updates from the Provost, discussing:
While the Fall may look different than past semesters, some things will always be the same.  Catawba's true value and mission will always be to offer an education rich in personal attention that helps you reach your highest potential. You may have additional questions, concerns, or feedback.  Please feel free to contact me using the 
"Ask the Provost"
 form.
Additional Information on the Return to Catawba plan:
Required Daily Self-Health Monitoring – Download the MyCatawba App Today
Catawba has developed a list of questions for students and employees to review and complete every day before entering campus.
The easiest way to complete the self-health monitoring questionnaire is by downloading the MyCatawba Mobile App to complete the assessment each day on your Apple or Android Device. To learn how to download the MyCatawba app and complete the daily self-health questionnaire, view the brief tutorial video.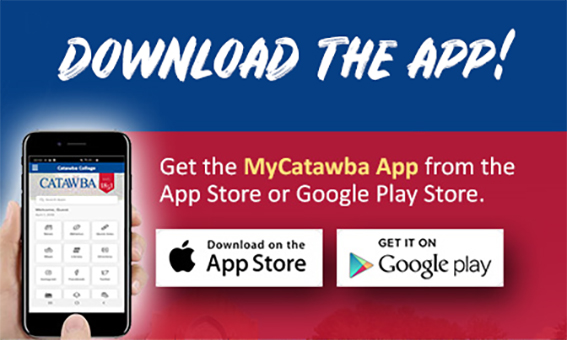 Constance Rogers-Lowery Ph.D. 
Provost and Senior Vice President for Academic Affairs