Phi Beta Lambda (Catawba College Chapter) is a part of the largest student business organization in the country with over 250,000 members nationwide!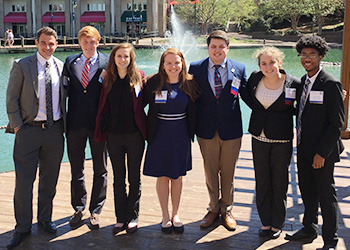 Imagine building a portfolio of documented accomplishment as a complement to your academic experience. During a job interview, you can demonstrate how you served in a leadership position for the largest collegiate business student organization in the world. At the same time, you will have entered one or more professional competitive events where you have finished as the very best in the nation.
PBL isn't just another student group — it gives members that opportunity to learn, travel, and grow as a business professional. Employers are looking for students with cutting-edge skills. PBL gives members the chance to gain these skills and prepares them for the "real-world" after college. Set yourself apart from the average graduate! In today's highly competitive business environment it takes more than just a degree to succeed. It requires business savvy, leadership skills, and technical knowledge. By taking advantage of the many programs that Phi Beta Lambda offers, students acquire the skills that will set them apart from the average graduate. They will be better prepared for careers, graduate school and for life!
If you are interested in developing leadership, communication, and team skills - or simply looking for an organization to meet and network with others at the local, state, or national levels - PBL is the organization for you.
Apply to Join Us!
Interested students can contact Dr. Pamela Thompson for more information or apply below: