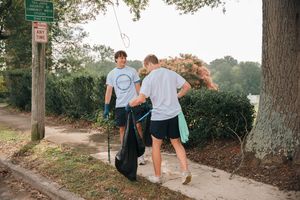 Catawba College embarked on a historic journey as it hosted its first-ever Day of Service. It was an event that epitomized the college's unwavering commitment to community engagement and a culture of service. Held on September 13th this day witnessed 481 Catawba students, faculty, and staff coming together to serve the Rowan County community through a multitude of projects in collaboration with 23 community partners.
The monumental occasion signified a significant milestone for Catawba College as it marked the birth of the first "Pillar Day," signaling the beginning of a new tradition deeply rooted in the College's identity. The Day of Service not only exemplifies the institution's dedication to academic excellence, but also showcases its core values of compassion, community, and service.
"We were thrilled to partner with 23 different community partners on our first Day of Service," said Johnathon Boles, Associate Director of the Lilly Center for Vocation and Values at Catawba College. "Seeing so many students and employees of the College roll up their sleeves and serve in the community. It is a living testimony to our mission to help students become responsible citizens with a zeal to enrich human life."
One of the most striking aspects of the event was its widespread impact on Salisbury and Rowan County, with volunteers working at multiple sites in collaboration with 23 community partners. This level of engagement demonstrates the special and unique bond between the college and the local community.
Activities for the Day of Service included a wide range of volunteer opportunities including tutoring and mentoring students, local food bank and shelter support, park cleanups, tree planting, beautification projects, and senior citizen outreach.
The success of the event was made possible in part by the generous support of Salisbury-Rowan Schools, Catawba Athletics, and First Presbyterian Church, who provided transportation for volunteers to the various service sites.
In line with Catawba's eco-conscious initiatives, the Day of Service implemented sustainability practices throughout the event. The group transportation reduced the carbon footprint for the day, event wristbands were made from 100% recycled materials, and the end-of-day celebration dinner was planned as a zero-waste event, exemplifying Catawba's dedication to environmental stewardship.
The inaugural Day of Service was a resounding success thanks to the dedication and hard work of students, faculty, and staff. Student leaders include Suzie Rodriguez, Salem Fleming, Miles Lester, Zac Smith, Sebastian Zabala, Jennifer Carbajal, Cameron Hensley, and Ana Price.
"I am so grateful for everyone jumping in to make this day a possibility," added Boles. "It amazes me what a difference can be made in a community when we sacrifice just a bit of our time to help. We hope our Day of Service leaves a lasting legacy of service in our community. I can't wait for our next Pillar Day and for next year's Day of Service."
Catawba expresses its sincere gratitude to its 23 community partners who played a pivotal role in making the Day of Service a reality. Their dedication to building a stronger, more vibrant Rowan County community is a testament to the power of collaboration and shared values. Community partners include Partners in Learning, Main Street Market Place, Southeast Middle School, Power Cross, City of Salisbury, Pedal Factor, Nazareth Children's Home, Isenburg Elementary, West Rowan Elementary, Overton Elementary, Rowan Helping Ministries, Habitat for Humanity, NC Transportation Museum, Salisbury Academy, Piedmont Players, Horizon Unlimited, Veterans Affairs, Autumn Care, Life Choices, Trinity Oaks, Terrie Hess Child Advocacy Center, Saving Grace Farms, and Lee Street Theatre.
For more information on Catawba's Day of Service, please contact Boles at jcboles@catawba.edu.