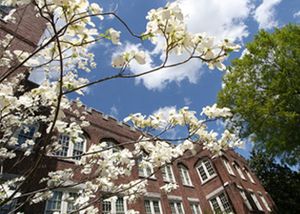 Catawba College has appointed Dr. ChaMarra Saner as interim provost beginning June 1st. She will serve upon the departure of current Provost Constance Rogers-Lowery, who will be returning to teaching and research.
Catawba has also named Professor Earl Givens, Jr. as interim vice provost, also beginning June 1st, who will succeed Dr. Forrest Anderson who will be leaving Catawba College for USC Aiken as their next dean of the College of Arts, Humanities, and Social Sciences.
"I look forward to working closely with Dr. Saner, Professor Givens, and the entire Academic Affairs team to ensure this interim period is productive for everyone as we continue to provide continued support to our students and faculty," said Catawba President David P. Nelson.
Saner, associate professor of chemistry, began with Catawba in 2015. As interim provost, she will serve as the chief academic officer. Saner is currently the chair of faculty senate, director of the Science and Mathematics Academic Resource Center, co-chair of the Equity Diversity Justice and Inclusion Taskforce, and the faculty adviser for student organizations. She has also worked as a finished product chemist in the pharmaceutical industry.
Saner holds a PhD in analytical chemistry from Louisiana State University, a MS in organic chemistry from North Carolina's A&T State University, and a BS in chemistry from the University of North Carolina at Pembroke.
Givens, Jr. joined Catawba in 2015 and is currently the Dean of Learning Resources, Director of the Corriher-Linn-Black Library, and Special Assistant to the President for Leadership Development. He was instrumental in initiating programs and technology to advance the changing future of the campus library for the 21st century and worked closely with campus departments to implement both augmented reality and virtual technology to Catawba.
Givens holds his MLS from Emporia State University with an emphasis in library technology, a BA in American History from Emporia State University, and is a graduate of Harvard's Graduate School of Education in Organizational Leadership.
Catawba is conducting a national search for a new provost. The search committee is being led by Dr. Maria Vandergriff-Avery, Professor of Sociology and Director of Catawba's Honors Program, and will be assisted by Jim Sirianni of Diversified Search Group who guided Catawba's search for a new president in 2019-20.