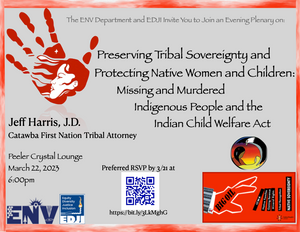 Catawba College will be hosting Jeff Harris on March 22nd at 6:00 p.m. in the Peeler Crystal Lounge, Robertson College-Community Center. Harris is the Catawba First Nation's Tribal Attorney. The event is free and open to the public.
The talk is titled: Preserving Tribal Sovereignty and Protecting Native Women and children: Missing and Murdered Indigenous People and the Indian Child Welfare Act. He will also speak about the cases currently taking place in the courts.
RSVPs are preferred by March 21st at https://bit.ly/3LkMghG
Harris is a citizen of the Catawba Nation and works as the Tribal Attorney for the Nation. In this capacity, he leads the in-house legal department of the Nation and directs the establishment and development of a tribal public safety department, tribal courts, and related justice services. In addition, he serves on the Tribal In-House Counsel Board of Directors and Iswa Head Start Policy Committee, and he volunteers as a youth mentor at the Catawba Nation Boys & Girls Club. He graduated from Duke University School of Law in 2011.
This event is sponsored by Catawba's Department of Environment and Sustainability, and the Equity, Diversity, Justice, and Inclusion Task Force (EDJI).