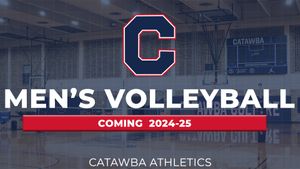 Catawba College will add Men's Volleyball as its 24th varsity intercollegiate sport, with its first season of competition set to start in January 2025, Catawba College Director of Athletics Michelle Caddigan announced on Thursday.
"We are excited for the opportunity to start a men's volleyball program and believe this will strengthen our academic and athletic profile while providing new and exciting opportunities for our campus community," Caddigan said. "Men's volleyball is a sport with tremendous upward momentum that will allow us to recruit and retain quality student-athletes from a broad geographic footprint."
Volleyball is the fastest-growing team sport in the country for boys, as 66,000 now participate at the high school level, a 23% increase in the last five years. Volleyball was the only team sport for boys to grow during the COVID-19 pandemic.
Catawba will begin competition as an independent, joining other independent regional institutions such as Limestone, Lincoln Memorial, Queens, and Tusculum. The team will also regularly compete with schools in Conference Carolinas, which sanctions an eight-team conference for Men's Volleyball.
NCAA Men's Volleyball currently operates under a hybrid Division I and Division II model, so Catawba will be competing at the highest level of collegiate men's volleyball alongside the likes of Stanford, Ohio State, USC, UCLA, and Penn State.
The addition now makes even 12 men's sports and 12 women's sports on campus and is the first new sport to Catawba since the addition of men's and women's track and field in 2017.
The program will take the 2023-24 academic year to recruit before preparing for its inaugural season of competition in 2024-25. Until a coach is named, recruits may contact Brian Ford (bpford23@catawba.edu) or Michelle Caddigan (mcaddiga22@catawba.edu).
For Men's Volleyball updates, visit catawbaathletics.com.