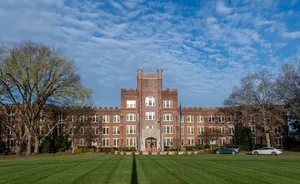 Catawba College's Music Department in the Shuford School of Performing Arts will present "Our Song VIII" on Sunday, April 23rd at 4 pm in Omwake-Dearborne Chapel. The concert is free and open to the public.
The "Our Song" choral concert series began as a request from members of the Catawba Singers to program a concert of their own choosing. "Our Song 1" was presented in 2014 and has remained an annual tradition except one year impacted by COVID-19.
As the students have complete control over the selection of the music, the program will feature a wide variety of styles and traditions. Audience members can expect to hear traditional choral literature, gospel, American folk, pop, and rock styles all in the span of seventy-five minutes.
Another traditional part of the concert is the "Senior Showcase." Graduating seniors will each perform one selection of their choosing during the concert. This year, our student showcase will feature six students from the vocal studio of Nicholas Fuqua, Catawba's Professor of Musical Theatre.
The choir is under the direction of Dr. Phillip E. Burgess, Catawba's Dean of the Shuford School of Performing Arts. Ms. Susan Trivette, Catawba's collaborative pianist serves as accompanist.
Additional student and faculty performers will also be featured.