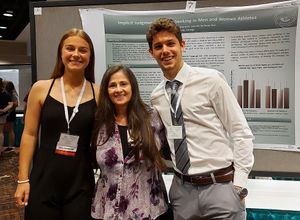 Three faculty and eight students from Catawba College's psychology department attended the annual meeting of the Southeastern Psychological Association in New Orleans, LA, from 4/5-4/8. Students who attended were Berta Vidal Carnero, Finn Boettcher, Kyle Holmes, Zac Smith, Maria Martinez, Ashley Williams, Riley Dorman, and Haleigh Mitchell.
Dr. Jennifer Klebaur made a presentation in a session titled "Keeping Undergraduate Psychology Students Engaged by Using Innovative Class Activities" and she also presided over a session and served on the program committee. She and her student, Kyle Holmes (and several other co-authors, including Drs. Richard Macri and ChaMarra Saner) presented a poster "Feeding Behavior in Dubia Roaches Given Addictive Substances."
Dr. Diana Riser presented two pieces of original research. These were "Childhood Trauma, Resilience, and Emotion Processing in Adulthood" and "Gender and Accent bias in Student Evaluations of Teaching." These were collaborations with students and faculty from Columbus State University in Georgia.
Dr. Sheila Brownlow sat on a panel titled "So You Want to Be a Department Chair?" and she also presided over two sessions and served on the Program Committee. Her students presented four posters on which she was co-author. Maria Martinez served as first author on "Rationalizing Blame: The Use of Analytical Language in Attributions to Victims," and Haleigh Mitchell was lead author on "How Both Crime Ambiguity and SDO Influence Judgments of Blame". Finn Boettcher and Riley Dorman, along with Dr. Brownlow, presented "Implicit Judgments of Help-Seeking in Men and Women Athletes," and Brownlow was third author with Berta Vidal Carnero and Myana Smalls on "How Name Popularity and Physical Attractiveness Jointly Influence Trait Judgments on Instagram."