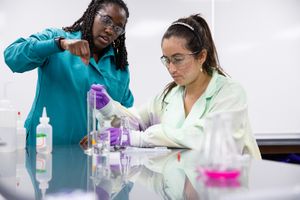 Three Catawba College undergraduate students have each been awarded Yarbrough Undergraduate Research Grants from the North Carolina Academy of Sciences for the upcoming 2023-24 academic year.
These grants recognize the students' talent, creativity, and commitment to advancing knowledge and making meaningful contributions to the natural sciences. The grants will provide financial support for these students to pursue their research projects and further develop their skills.
The recipients of the Catawba College undergraduate research grants include:
Ally Fredrick (Research advisor: Dr. Erin Witalison)
Yahaira Galan Cruzes (Research advisors: Dr. Andrew Jacobson and Dr. Bahy Abdelmesih)
Ana Price (Research advisor: Dr. Andrew Jacobson)
"We are incredibly proud of our talented students who have received these prestigious research grant awards," said Dr. Carmony Hartwig, Director of Undergraduate Research and Creativity at Catawba College. "These grants serve as a catalyst for our young researchers to unlock their full potential. We congratulate them on this well-deserved recognition and are excited to see the impact their research will have on their respective fields."
Their research will contribute to expanding scientific knowledge and finding innovative solutions to real-world challenges. Ally Fredrick is examining the effects of low levels of UV radiation on epithelial cell lines. She will focus on DNA damage and molecular stress pathways that are affected by UVA, UVB, and UVC rays. Frederick's research will shed light and further our understanding of how UV light damages skin cells and how to minimize or prevent this damage. Yahaira Galan Cruzes is exploring whether plasma-treated water can be effectively used as a plant fertilizer. A special device would zap water with electricity in the presence of air to generate plasma-activated water. This special water is being explored for use in several fields, but Yahaira wants to compare its efficacy against commercial fertilizers. Commercial agricultural fertilizers are an important source of water pollution and reducing their use would be beneficial. Finally, Ana Price is exploring the world of scent communication across carnivore species to better understand how predators 'talk with' other predators. This research could potentially be applied to address carnivore predation on livestock via the application of fake carnivore scents.
Galan Cruzes says, "I am honored to be selected for this grant. This amazing grant provides me exposure to a bigger community where I can bring awareness about a potential global fertilizer shortage and the need for alternative and sustainable agricultural fertilizers."
Previous student award winners from Catawba College include Alexander Gehron in 2022-23 (Mentors: Drs. Joe Poston, Sue Calcagni, and Carmony Hartwig) and Austin Snide in 2021-22 (Mentor: Dr. Carmony Hartwig).
The North Carolina Academy of Science began in 1902 with the objective to "encourage the advancement of science within the state of North Carolina by promotion of scientific research and by the fostering of education in the sciences". Approximately four undergraduate research awards are given each year to students across the state. Each student will be required to share their findings at the Academy of Science Spring 2024 conference.
About Catawba College
Founded in 1851, Catawba College is a four-year, private, liberal arts college conveniently located in Salisbury, N.C. Ranked as one of the best regional colleges in the South, Catawba is a learning community providing students unique opportunities to discover their vocation, calling, passions, and purpose as they prepare to reach their highest potential. The College offers more than 70 undergraduate and three graduate programs allowing students to explore diverse interests and create their own academic pathway. Additional information is available at catawba.edu.