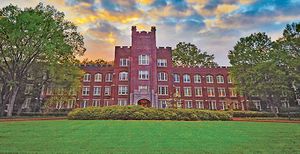 Catawba College received $2.5 million this summer to provide scholarships to students with SAT scores of 1500 and above and 1400 and above, or the ACT equivalent.
Scholarships to qualified students with scores over 1400 will cover full tuition over four years; additional scholarship funds are designated for students with SAT scores of 1500 and above, covering tuition, room, and board.
"We are grateful for this gift that encourages high-achieving students to enroll at Catawba College," said Catawba President David P. Nelson. "These scholarships will help to provide them the support necessary to achieve their academic and personal success."
These scholarships position Catawba to attract the highest academic achieving students in the country, increasing the profile of Catawba's outstanding Honors Program.
"The College is excited to be able to offer these scholarships," said Dr. Jared Tice, Senior Vice President. "We anticipate their positive future impact as Catawba continues to educate and produce well-rounded individuals in our society who can, in turn, carry on Catawba's longstanding traditions. Our students strive to improve their communities, their alma mater, and our world."
The SAT-score-based scholarships will be awarded beginning with the 2024-2025 academic year.
The 2024-2025 application is available online at catawba.edu/apply, with an early priority application deadline of November 15th.