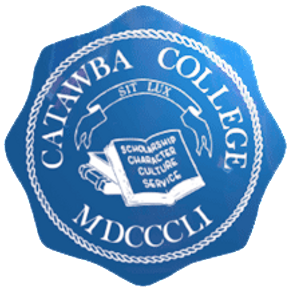 Catawba College is very pleased to report the following accomplishments and achievements by a number of faculty and students. We extend our congratulations to these faculty and students on their recent successes! Department of Biology Ten Biology and Environmental Science students presented at the 7...
Catawba College is very pleased to report the following accomplishments and achievements by a number of faculty and students. We extend our congratulations to these faculty and students on their recent successes!

Department of Biology
Ten Biology and Environmental Science students presented at the 77th Association of Southeastern Biologist Meeting and Tri-Beta meeting in Concord NC; they were:
Ashley Wagoner
Matthew Jordan-Steele
Nadine Brockmann
Virginia Merida
Karina Noyolo-Alonso
Viri Manujano
Doug Taylor
Joel Schlaudt
Morgan Elder
Kristy Williams
They were advised by several Catawba College ENV and BIO faculty.
In addition, at the ASB meeting, Catawba College was a recognized as a Co-Sponsor of the successful Quillcon II Symposium: Ecology and Evolution of Southeastern Isoetes.

Department of Business & Economics
Professor Michelle Woodhouse co-authored an article entitled "Enhancing the Strategic Management Process Through the Use of Professional Evaluation Methods and the Logic of Evaluation," which was recently published in the Journal of Multidisciplinary Evaluation.

Department of Music
Dr. Phillip Burgess recently directed The Fayette County All-County Chorus in Oak Hill, West Virginia, which was a chorus of 70 students drawn from 9 district schools.
On April 22-23 Dr. Burgess will direct the Cabarrus County 5th grade Honors Chorus in Concord, and on April 28-29 he will direct the Rowan County All-County Honors Choir in rehearsals and concert, to be performed at Catawba College.

Department of Psychology
Three faculty (Drs. Boulter, Wood, and Brownlow) traveled to the annual Southeastern Psychological Association conference in New Orleans, LA, March 30-April 2. Seven students attended the convention and four of those students made presentations.
Dr. Erin Wood presented research on which she's collaborated with Dr. Kristina Hood from Mississippi State University on the nexus of self-efficacy, demographic characteristics and technology use. Eight areas of health behaviors including exercise, nutrition, rest and relaxation, sexual health, alcohol, and prescription, illicit and legal drugs, are viewed through the lens of the two groups of sampled students: one from a small, private college versus another from a large, state university. Characteristics of smartphone applications focused on health and wellness are also investigated to elucidate possible technological therapeutic utilities for specific groups of people.
Jennifer Beach, Melissa Greene, and Dr. Sheila Brownlow presented research that focuses on how language use, specifically self-referent focus, is a function age, sex, and social status and is revealed in public speech. Their research includes analysis of over 4000 Tweets of famous persons and is titled "Do Twitter Posts of Public Figures Reveal Private Selves?"
Abigail Moore, Evan Schultz, and Dr. Sheila Brownlow presented "Do Expansive Gestures Mitigate the Effects of Ego Depletion?" which reports their research focusing on the manner in which physical space for expansive gesturing (aka "power posing") and other cues to power and dominance contribute to implicit measures of self-enhancement strategies.
Also attending the conference were Grace Tworek, Kathleen Burris, and Faith Carleton.
Both Dr. Boulter and Dr. Wood presented in a session titled "Using Class Activities in Undergraduate Psychology Courses to Engage Students". This session was a panel on novel pedagogical tools and activities used to teach in the discipline of psychology.
Additionally, Dr. Boulter and Dr. Brownlow each chaired a session. Finally, Dr. Brownlow was an invited panelist in a session by the Association of Department Heads in Psychology. That panel was called "Department Head (or Interested is Becoming One)? Come Talk to Other Department Heads about How to Prepare for the Apocalypse!"
From the Department of Theatre Arts
Kindra Steenerson and Meredith Fox both lead workshops at the South Eastern Theatre Conference in Charlotte in the first week of the month. Both workshops were well attended and very successful. Dr. Steenerson's workshop was "Hashtags to Harmony: Using Meisner and Auto Drama to Create Understanding," which explored the use of Meisner impulse work and auto drama as a way to build community and understanding. The process has proved an effective acting exercise for intermediate level actors, but through years of experiments, its application as a tool for bridging difference, incorporating student services personnel, and inciting complex, and compelling conversations around controversial subjects has been inspiring.
Professor Fox conducted two workshops: Elemental Body Alignment System Level I – Helping the individual find structural integrity, supported range of motion, and articulate and efficient movement; and Dancing Dialogue – Developing Physical Dialogue Through Ballroom Dancing (based in her MFA thesis research). She was also recently appointed as Co-Vice Chair of the SETC Movement Committee.

From the honor society Alpha Chi
Five current members and one alumni member will attend the Alpha Chi National Convention later this week in Alexandria, VA. They are: Ashley Everidge, Taylor Spillman, Collin Denton, Blake Brewer, Josh Hill, and Andrew McCollister. Each will present his/her own research during concurrent sessions.
In addition, Dr. Margy Stahr (Alpha Chi Sponsor) has been asked by the National Council to lead one of the chapter-strengthening sessions, the topic of which is successful applications for national scholarships. Catawba students Lizzie White, Olivia Myers, Katia Kruglov, and Kathleen Burris have won national scholarships during the last three years, and Taylor Spillman won a regional scholarship in 2015. The students attending the convention will co-lead this session with Dr. Stahr.
Please send good wishes their way as they travel to Alexandria, and represent the chapter and Catawba College.
#gocatawba