The Alumni Association's Alumni Board of Directors presents several awards each year in an effort to recognize and honor outstanding alumni.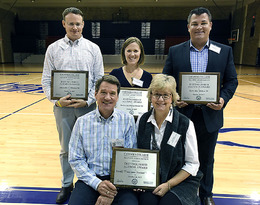 Their accomplishments and contributions benefit both society and our campus, advancing the common good and inspiring with insight and creativity. To celebrate our alumni, we honor those who represent our core values — scholarship, character, culture and service — through these annual awards.
The Alumni Board of Directors considers several factors in choosing award recipients. Previous winners are ineligible. Traditionally, current association board members and trustees, and current members of the college faculty and staff are not considered. Furthermore, the board tries to give awards, whenever possible, to individuals in classes celebrating reunions.
The following are the annual awards, given by the Alumni Association:
Catawba College Black Alumni Network Award
This award is presented annually and recognizes Black alumni who paved the way for African American students. They have distinguished themselves in a profession and/or local community and conveyed integrity to Catawba through their decency and bravery. The alumnus/a brought honor to the Catawba community as a whole and the Catawba Black Alumni Network through their support of CBAN events, initiatives and the CBAN.
Distinguished Alumni Awards
The Distinguished Alumni Awards are given by the Alumni Association to individuals who have served their community, distinguished themselves in their profession, and have served the Catawba College community. These awards are separated into 4 categories for possible nominations/awards and are presented at the Distinguished Alumni Awards Ceremony during Homecoming Weekend.
Distinguished Alumni Award — Career Achievement
Recipients of this award have provided leadership or attained recognition on a national or regional level within their profession or business.

Distinguished Alumni Award — Service
This award recognizes alumni who have provided extraordinary service to their community and demonstrated leadership to the College.

Young Alumni Award — Career Development
Recipients of this award have quickly developed success in their career field. Young alumni are those who have graduated from Catawba College within the past 10 years.

Young Alumni Award — Service
Each year we recognize a young alumnus/a for his or her exceptional service to the college and/or community. Young alumni are those who have graduated from Catawba College within the past 10 years.
O.B. Michael Award
The O.B. Michael award is given annually by the Alumni Association Board of Directors in memory of The Reverend O.B. Michael, class of 1919. The award is presented to a member of the alumni association who has made a valuable contribution to the College and/or to society, and is presented by the college president at the graduation ceremony.
Help the Alumni Association Board of Directors by nominating a worthy alumnus/a to receive an award by submitting the nomination form below.
Please keep in mind the following when submitting your nomination:
The nominee must have an undergraduate, or graduate degree from Catawba College. Self-nominations will be accepted.

Nominations must be received by the Office of Alumni Relations by April 1, so that the board may collect all nominees, deliberate, and vote on recipients.

All nominations for an award must be received through the online application below and the nominator must complete the nomination form entirely or include all pertinent information in their email nomination.

A nominator may nominate more than one person, or may nominate the same person for more than one award, but these nominations must be submitted independently. The nominator does not need to be a graduate of Catawba College.

Alumni cannot receive the same award more than once, nor should they receive multiple awards within a five-year period. A list of past recipients can be found below.
In addition to the nomination form, if you would like to submit supplemental material, such as articles, resumes, letters of support, etc., you may submit those to alumni@catawba.edu. Please note that these materials will not be accepted in place of a completed nomination form; these supplements will only strengthen your nomination!
2022
Distinguished Alumni Award For Service— Robert S. Setzer '73

Distinguished Alumni Award For Career Achievement — Dennis E. Reed, Jr. '06
Young Alumni Award For Service— Brandon S. Floyd '17
Young Alumni Award For Career Development— Sarah E. Devlin '12
Catawba Black Alumni Pioneer Award— Cyrus "Cy" Alexander, III '75
Catawba Black Alumni Pioneer Award— Stephanie A. McCormick '94
2021
Distinguished Service —Tom Atkins '71
Career Achievement — Jolly Manning '06
Young Alumni Service — Jonathon Boles '16
Young Alumni Career Development — Destiny Stone-King '18
Catawba Black Alumni Pioneer Award — Dolan Hubbard '71 and Wilson Cherry '74
2020
Thomas Readling '10 - Young Alumni Award—Career Development
Theo Shepard '15 - Young Alumni Award—Service
John Arrowood '79 - Distinguished Alumni Award—Career Achievement
James L. Taylor '76 - Distinguished Alumni Award—Service
Ike Hill '70 - Catawba Black Alumni Pioneer Award
Reverend Lawrence Bullock '69 - Catawba Black Alumni Pioneer Award
Dwight Durante '74 - Catawba Black Alumni Pioneer Award
2019
George Moss '64 - Distinguished Service
Raymond Daniels '91 - Career Achievement
Joshua Owen '13 - Young Alumni Service
Kendrick Mayes '12 - Young Alumni Career Development
2018
Allan Robert Autry '08 - Young Alumni Award for Career Development
Robin Tynes-Miller '12 - Young Alumni Award for Service
John D. Balls '70 - Distinguished Alumni Award for Career Achievement
Marvin T. Moore '99 - Distinguished Alumni Award for Service
2017
Mr. Gary Blabon '91
Dr. Katharine Phelps Walsh '05
Mr. David '77 & Mrs. Anne Cleveland '76 Renkes
Dr. Alexander Whitley '00
2016
Jim Gantt '89
Dennis Reed '06
2015
David and Nancy Blalock '72
Reverend Dr. Kenneth Clapp '70
2014
Thomas S. Dennard '77
Ronald J. Maccaroni '67
2013
Alison Horner Klopp '95
Edwin Stuart Powell, Jr.
The Rev. Banks D. Shepherd '50
2012
Michael S. Bauk '79
Dolan Hubbard '71
The Rev. Dr. Thomas R. Hamilton '55
Jack S. Ward '51
2011
William V. "Bill" Godley '76
The Hamm Brothers, Benjamin and Bradley '86
2010
Gregory M. Alcorn '79
Thomas E. "Tom" Burdette '73
2009
Nancy Foster Councill '80
Dr. Verne Lanier '62
Dr. Arlan Mantz '62
Barbara Marshall '72
2008
Joey Popp '77
Sally Whitney '77
Bill Hall '66
2007
Charles David "Dave" Robbins '66
Dr. Shirley Peeler Ritchie '52
Dr. Karen Dutson Wood '72
2006
Grady Shoe '49
Larry Cloninger '74
Tom Childress '64
2005
Joseph "Joe" R. Gorman '74
G. Edward Hughes '72
Ray Oxendine '61
Ralph J. Sturkey '39
2004
2003
The Reverend Dr. Barbara Kershner Daniel '80
Dr. Michael Joseph Mayhew '75
2002
William "Bill" Graham '83
Dr. Gwen Roberts Sharp '49
2001
Judy Gooch Newman '81
Eleanor Thompson Wortz '42
Wade Hampton Shuford, Jr. ' 50
Charles Muse '68
2000
Col. Edward Rector '38
C.A. "Junie" Michael '70
1999
James and Martha Seiwell "Marty" Dayvault - '64
Brig. Gen. Frederick E. Sisley ' 57
1998
Cook, Sara DuBose '65
Landreth, D. Jeff '67
Leonard, Barry D. '65
Wallenborn, A. Lorraine '37
1997
Gilliland, Martha W. '66
Lofland, Rodger (d) '61
McCrory, Patrick '78
Wentz, Frances Decker (d) '29
1978
Cline, Ned A. '64
Greene, Edward F. '51
Hornick, Dr. Newton (d) '33
Keppel, Robert A. Dr. (d) '49
Lee, Robert C. (d) '53
Miller, Barry G. (d) '49 1978
1977
Causby, E. Eugene '58
Christman, Ronald W. '70
McDuffie, J. Doyle '50
Swing, William L. '56
1976
Ball, Darlene Landis '62
Fuoss, Donald '47
Poole, Frazer G. (d) '37
Strayhorn, Carrie Bell '36
1975
Barrow, Patricia Irwin '53
Bost, Mrs. Cecile Rowe (d) '46
Ferebee, Joseph S. '42
Kirk, Jr., Philip J. '67
1974
Hunt, James C. '49
Oxendine, Joseph B. '52
Peeler, A. C. Dr.(d) '16
Thomason, Harry E. (d) '49
Waggoner, William J. '49
1996
Bolick, Edith M. '70
Bross, Daniel T. '71
Pratt, Sarah Moss '70
Williams, Dick (d) '57
1995
Arnold, Jr., Robert B. '71
Jones, Julia Moss '45
1994
Appelfield, Bryan M.
Duncan, Haskell A. (d) '56
1993
Rendleman, Richard (d) '41
Rink, John F. '49
1992
Allred, Jim '49
West, Martha Kirkland '59
1991
McGimsey, Richard G. '51
Rich, W. Guy '61
1990
Houghton, Carol Lee Dr. '71
1989
1988
Dearborn, Mary O. (d) NA
Rathbun, Robert C. '76
1987
1986
McGinnis, Thomas C. (d) '46
1985
Osterhus, Cyndi Ball (Zerger) '73
1984
Tilley, Ray A. Dr. '60
Whitener, Mary K. Paul (d) '41
1983
Fields, Frank P. '51
Garfinkel, Daniel '49
Norman, N. Blanche Dr. (d) '33
Tucker, N. Louise '44
1982
Emerson, James W. Dr. '61
Kepley, Kenneth C. '57
Levan, Margaret Smith (d) '40
Smith, Tom E. '64
1981
Bolt, Jr., Conway A. '51
Essick, Foil (d) '30
Ramseur, Hilda Troxell '50
Ramseur, Walter R. '49
Wilhelm, Billy H. '57
1980
Bashore, Anne B. '34
Foster, James '50
Smith, Jr., Richard H. '56
Snyder, Richard '56
Turner, Henry Clay (d) '50
1979
Gray, Rachel Gilean '52
Hampton, Jr., Claude B. '48
Lyerly, Jr., William C. (d) '41
Ramsey, Jean Kirk (d) '46
Scarlett, J. Donald '48
| | |
| --- | --- |
| Year | Recipient |
| 2021 | TBA |
| 2020 | TBA |
| 2019 | William (Bill) '76 and Margaret (Peggy) Kivett '77 Godley |
| 2018 | Bill Hall '66 |
| 2017 | Clapp, Kenneth |
| 2016 | Daniel T. Bross '71 |
| 2015 | Michael, Chester "Junie" |
| 2014 | Childress, Thomas C. |
| 2013 | Rich, W. Guy |
| 2012 | Swing, William L. |
| 2010 | Abernethy, C. Shuford |
| 2009 | McCrory, Patrick |
| 2008 | Ferebee, Joseph S. |
| 2007 | Oxendine, Joseph B. |
| 2006 | Wallace, Jr., Leo |
| 2005 | Ritchie, Shirley Peeler |
| 2004 | Sloop, Norman |
| 2003 | Cook, Sara DuBose |
| 2002 | Penninger, Samuel A., Jr. |
| 2001 | Safrit, Lynne Scott |
| 2000 | May, Philip |
| 1999 | Kerr, Abby Hastings |
| 1998 | Kirk, Jr., Philip J. |
| 1997 | Tucker, N. Louise |
| 1996 | Potts, Charles G. |
| 1995 | Ramseur, Walter R. |
| 1994 | Hampton, Jr., Claude B. |
| 1993 | Williamson, James L. |
| 1991 | Frock, E.B. (d) |
| 1990 | Smith, Tom E. |
| 1989 | Lewis. John H. |
| 1988 | Marshall, Thomas R. & Sarah (d) |
| 1987 | Leonard, Theodore P.(d) |
| 1986 | Dedmond, Francis B. (d) |
| 1984 | Whitener, Orin Sigmon (d) |
| 1983 | Knox, Mary Emma (d) |
| 1982 | Fuoss, Donald |
| 1981 | Bernhardt, Henry C. |
| 1980 | Allen, Jr., E. L. "Sonny" |
| 1979 | Corriher, Jr., J. Fred |
| 1978 | Seiwell, Porter Rev. (d) |
| 1977 | Brewer, James T. |
| 1976 | Robinson, Jr., John P. |
| 1975 | Wentz, Frances Decker (d) |
| 1974 | Richards, Marion M."Chub" (d) |
| 1973 | Church, John T. (d) |
| 1972 | Self, William C. |
| 1971 | McGinnis, Thomas C. (d) |
| 1970 | Scarlett, Melvin G. |
| 1969 | Hoopes, Luther H. (d) |
| 1968 | White, A. Howard Dr. (d) |
| 1967 | Carroll, Tom |
| 1966 | Koonts, J. Calvin (d) |
| 1965 | Benson, Jr., C. Robert Dr. |
| 1964 | Goodman, Enoch A. (d) |
| 1963 | Cheek, Richard A. |
| 1962 | Leinbach, Jr., Roy E. (d) |
| 1961 | Leonard, Ruth Dr. (d) |
| 1960 | Rankin, Annie Shuford (d) |
| 1959 | Menius, Arthur C. Dr. (d) |
| 1958 | Whitener, Sterling H. Dr. |
| 1957 | Fesperman, Harvey (d) |
| 1956 | Goodson, W. Kenneth (d) |
| 1955 | Winters, Woodrow W. (d) |
| 1954 | Peeler, Banks J. Dr. (d) |
| 1953 | Proctor, Ella Mae Daniel (d) |
| 1952 | Peeler, J.W.(O.C.) Dr. (d) |
| 1951 | Beck, Dr. Clifford K. (d) |
| 1950 | Whitener, Edgar (d) |
| 1949 | Leonard, A. Odell Dr. (d) |
| 1948 | Long, Earl A. (d) |
| 1947 | Andrew, Dr. J.D. (d) |
| 1946 | Coble, Herbert (d) |
| 1945 | Garrison, Dr. J.S. (d) |
| 1944 | Warlick, Judge Wilson L.(d) |
| 1943 | Rector, Edward F. Col.(d) |
| 1942 | Lantz, Dr. W. Augusta (d) |
| 1940 | McNairy, Dr. Caroline (d) |
| 1939 | Leonard, J.C. Rev.(d) |