International Honor Society in Education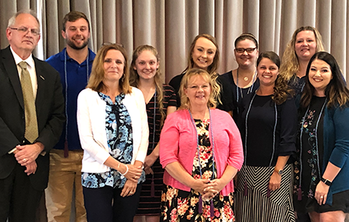 Kappa Delta Pi (KDP) was founded March 8, 1911, at the University of Illinois. It was incorporated June 8, 1911, and celebrated its 100th anniversary in 2011. Organized to recognize excellence in education, Kappa Delta Pi invites members who exhibit the ideals of scholarship, high personal standards, and promise in teaching and allied professions. The Theta Phi Chapter was installed on February 28, 1958. The chapter was reactivated in 1983.
The Society is made up of professional educators, college faculty, and students. The purpose of Kappa Delta Pi (KDP) shall be to promote excellence in and recognize outstanding contributions to education. It shall endeavor to maintain a high degree of professional fellowship among its members, quicken professional growth, and honor achievement in educational work. To these ends it shall accept to membership such persons as exhibit commendable personal qualities, worthy educational ideals, and sound scholarship, without regard to race, age, color, religion, sex, or handicapping condition.