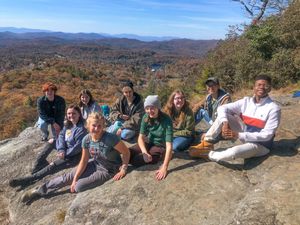 Students from two Catawba College Honors Program participated in a two-night trip to Highlands, NC to learn from one another outside of the classroom.
The students were from Dr. Gordon Grant's class, Green Imagination, in the department of English, and Dr. Joe Poston's class, Science in the Crosshairs, department of environment and sustainability. Both classes are honors sections of Catawba's First-Year Seminar.
"I learned about the role I can personally have helping and protecting the environment," said Catawba student Matthew Peeler. "This helped me realize the personal impact I can have and how the environment future isn't as bleak as it seems."
Discussions on the trip were sparked by readings from Heather White's book, One Green Thing. Students spent time talking about environmental challenges, eco-anxiety, and how individuals can contribute to solving environmental problems. The trip provided the opportunity for different first year seminar sections to spend time together.
Dr. Poston led multiple outdoor excursions, guiding the students on hikes to view waterfalls and vistas of mountains and valleys to experience the fall colors.
"The FYS trip to the highlands was not only beautiful with the fall colors in the mountains, but it also was a fun experience where I got to know my classmates and professors more," said Larkin Garden.
This was the first time students in the First Year Seminar have experienced an overnight retreat, but it won't be the last.
Ally Eudy said, "While I learned about local ecology on the trip, I learned the most about myself. I realized how fun it can be to just spend time hanging out with and getting to know new people."
---
About Catawba College
Founded in 1851, Catawba College is a four-year, private, liberal arts college conveniently located in Salisbury, N.C. Ranked as one of the best regional colleges in the South, Catawba is a learning community providing students unique opportunities to discover their vocation, calling, passions, and purpose as they prepare to reach their highest potential. The College offers more than 70 undergraduate and three graduate programs allowing students to explore diverse interests and create their own academic pathway. Additional information is available at catawba.edu.