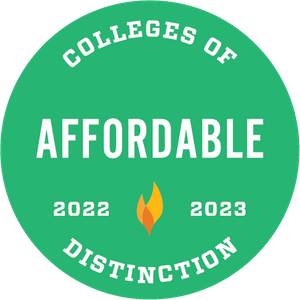 Catawba College has received a new accolade in recognition of its affordable programming in relation to its peers. The award comes from Colleges of Distinction, a resource whose cohort of schools is selected based on the quality and breadth of hands-on experiences in lieu of the popular rankings model.
"Catawba College is honored to be selected as an Affordable Institution by Colleges of Distinction," said Dr. Jared Tice, Catawba's Senior Vice President and Dean of Students. "This recognition is indicative of the College's longstanding dedication to delivering our high-quality, hands-on education grounded in personal attention and career preparation for any student and family seeking our distinct Catawba experience."
On the heels of a nation-wide conversation about college tuition and student debt, the Affordable Colleges of Distinction award aims to guide cost-conscious students and parents through the often opaque world of college financing. Catawba College stands out among the other Colleges of Distinction as one with notable financial costs and outcomes.
"How to pay for college is a near-universal question at the top of new students' minds," said Tyson Schritter, Chief Operating Officer at Colleges of Distinction. "Catawba College has demonstrated to us that its students are graduating with manageable debt and careers that help them thrive."
Fewer than 150 institutions have been selected as Affordable Colleges of Distinction, making Catawba College one of a kind. "Our calculations look at a number of factors related to cost," said Schritter. "It's important for us to remember that not all students are coming from the same socioeconomic background, and so we have incorporated weighted variables that adjust for family income relative to net price."
"We are incredibly grateful to our alumni, donors, and friends of the College who have continuously provided robust scholarships for our students making Catawba College a reality for any family by further strengthening our commitment to access and affordability," added Tice.