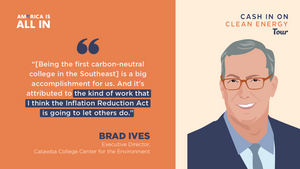 Brad Ives, Catawba College's Center for the Environment's Director, will be a panel member at the Cash In on Clean Energy Tour stop in Charlotte on July 20th from 12 – 5 pm at the Mint Museum, Uptown.
The Cash In on Clean Energy Tour is a series of monthly, in-person events that are taking place in cities around the country between July – October 2023. The first stop is in Charlotte. The event features an expert-led workshop for business, government, and community leaders to learn how to utilize the Inflation Reduction Act (IRA).
The event will include remarks from Charlotte Mayor Vi Lyles and Former EPA Administrator Gina McCarthy. The full list of speakers includes:
Jen Weiss, Co-director, NC Clean Energy Fund
Samantha Jacoby, Center on Budget and Policy Priorities
Anders Victor, Senior Manager, Economic Development Partnership of North Carolina
Charles Yang, fellow, DOE Office of Manufacturing and Supply Chains
John Geib, Director of Economic Development, Duke Energy
Ethan Blumenthal, Regulatory Counsel, NC Sustainable Energy Association
Sarah Hazel, Chief Sustainability and Resiliency Officer, City of Charlotte
Mary Linn, campaign organizer, Electrification Coalition
Brad Ives, Executive Director for the Center for Environment, Catawba College
The event is free to the public but registration is required.
Read more about this event at America is All In.