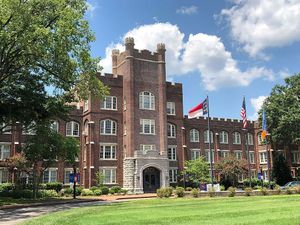 The Clinical Mental Health Counseling (CMHC) graduate program at Catawba College received word on August 10, 2023, that the Council for Accreditation of Counseling and Related Educational Programs (CACREP) granted accreditation to the program. The accreditation allows all graduates from the CMHC program to become eligible for licensure in North Carolina upon successfully passing the National Counselor Examination (NCE).
"On behalf of the faculty, students, and alumni of the Clinical Mental Health Counseling program, we are beyond thankful to be granted accreditation," said Dr. Chad Betters, Chair of the Clinical Mental Health Counseling program. "CACREP's status will only embolden our program's reputation of excellence. Since the first days of the program's development, CACREP accreditation has always been the benchmark and we celebrate our achievement."
Accreditation promotes standardization across counselor training programs, and in turn increases counselor program marketability. Data suggests that graduates from CACREP-accredited programs demonstrate higher levels of counseling competencies, skills, and professional behaviors. CACREP accreditation and ethical practice within counseling have also been correlated, and overall graduate employability is markedly increased via CACREP accreditation.
"I am very proud of the Clinical Mental Health Counseling program and its CACREP accreditation," stated Dr. Jim Hand, Catawba's Dean of the School of Health Sciences and Human Performances. "Our faculty and students are some of the best in the nation and they have already made a difference in the community and region. Under Dr. Chad Betters' leadership, we have quickly gained the reputation of being a program that not only prepares students for careers but prepares them to be empathetic, caring, and servant leaders in the field."
One local alum exemplifying this reputation, Kimberly Konen, completed her internship and accepted employment at the Terrie Hess Child Advocacy Center in Salisbury, NC, where she provides clinical counseling services to children and families. Konen, upon hearing the news of the CMHC program's accreditation, said, "As a recent graduate from the Clinical Mental Health Counseling program, I am ecstatic to hear that the program is now accredited by CACREP. While I personally did not feel like there was any doubt this would happen, I am grateful to know that CACREP saw, and appreciated, the work the faculty in our program poured into the program and their students. This accreditation allows the students and graduates to know they are being taught at the highest standard, which will ultimately lead to a fulfilling career in mental health counseling."
The program was fully developed in 2019 and launched in the midst of the COVID pandemic in August 2020. To date, two cohorts have graduated with eighteen counselors serving their communities. The program currently has 34 students, with 18 conducting their fieldwork this year and anticipating graduation in May 2024.
"Our counselors-in-training have strong clinical skills and I've been impressed with their level of passion and commitment at their fieldwork sites," said Dr. Brianna Randall, CMHC's Fieldwork Coordinator. "Gaining accreditation is an extra layer of validation in the strong therapeutic work that our practicum and internship students conduct. As the Fieldwork Coordinator, I'm excited to continue to build relationships with counseling practices in the local Salisbury community, as well as the distant communities in which our students live."
"It is such a blessing to become a CACREP accredited program because, as a student, I know the education I am receiving will set me up well for my future profession," said Zoey Conrad, a first-year student and member of the Catawba Women's Soccer Team.
The successful accreditation of the CMHC program will increase interest in potential applicants to the graduate program. More importantly, CACREP accreditation will ensure the quality of training students receive, and ultimately the quality of treatment future clients and patients will experience.
"The acquisition of CACREP accreditation confirms what we already knew – Catawba College provides exceptional education and training, and the CMHC program is another example of the good work being done here at Catawba," added Betters.
The Clinical Mental Health Counseling program is a two-year, 100% online graduate program. Consisting of 60 credit hours, students complete fifteen courses in counseling education, including counseling theory and techniques, ethical practice, multiculturalism, diagnostics, case conceptualization and treatment planning, and specific training in working with individuals, families, and groups. Students also complete fieldwork under direct clinical supervision, including a 100-hour Practicum and 600-hour Internship. The CMHC program prepares students to become eligible for state licensure, including the Licensed Clinical Mental Counselor (LCMHC) in North Carolina. Applicants for licensure must successfully pass the National Counselor Examination (NCE), which currently reports a 74% pass rate. Graduates from Catawba College's CMHC program currently report an 88% first-time pass rate and a 100% pass rate for licensure. For more information regarding the Clinical Mental Health Counseling program at Catawba College, you may contact Dr. Chad Betters at cbetters19@catawba.edu.