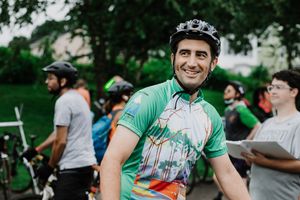 Dennis Markatos-Soriano, the executive director of East Coast Greenways, will be the featured guest speaker at the College on October 19th at 6:30 pm in the Center for the Environment Room 309. He will be speaking on "Biking and Walking to a Healthy and Sustainable Future for All: How to tackle the climate crisis and have fun doing it." This event is free and open to the public.
Please RSVP for the event online at: https://lp.constantcontactpages.com/ev/reg/hjkm58q
Markatos-Soriano is a prominent figure in the world of sustainable transportation and green infrastructure. He has dedicated his career to advancing biking and walking as practical and sustainable forms of transportation. His talk at Catawba will delve into the numerous benefits and opportunities that sustainable, human-powered mobility presents, not just for individuals but for entire communities and regions.
The East Coast Greenway, a 3,000-mile urban trail network that spans from Maine to Florida, showcases the power of active transportation in creating a healthier and more sustainable future for all. Under Markatos-Soriano's leadership, the greenway has grown from 18 to 36 percent complete, adding more than 500 new miles of greenway. The Greenway offers a safe place for bicyclists, walkers, runners, cross-country skiers, horseback riders, and more to commute, exercise, and visit new destinations.
Markatos-Soriano holds a BA from the University of North Carolina at Chapel Hill where he was a Morehead and Byrd Scholar, and a master's in public affairs from the Woodrow Wilson School of Princeton University, where he received the 2008 Bradford Prize for Academic and Civic Achievement in Science, Technology and Environmental Policy.