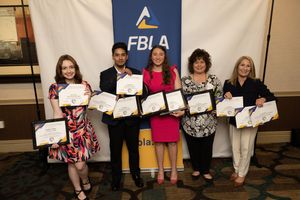 Catawba College students in their chapter of the Future Business Leaders of America - Collegiate (FBLA-C) received four first-place awards, two second-place awards, and five third-place awards at the recent annual State Leadership Conference held in Charlotte, NC in late April.
The FBLA-Collegiate National Awards Program recognizes and rewards excellence in a broad range of business and career-related areas. Through state-based competition at the spring State Leadership Conferences, students compete in events testing their business knowledge and skills. Top state winners are eligible to compete for honors at the National Leadership Conference each summer. All Catawba students competing in the State conference qualified to attend and compete at the National Conference which will be held in Atlanta, GA on June 22 – 25, 2023.
Catawba students who successfully competed and placed in events were:
Madison Smith: Administrative Support Technology 1st Place, Business Communication 2nd Place
Rachel Webster: Management Concepts 1st Place, Public Speaking 2nd Place
Lillie Martin: Marketing Concepts 1st Place, Project Management 1st Place
Harmony Spear: Administrative Support Technology 2nd Place, Business Communications 3rd Place
Sam Granillo: Marketing Concepts 3rd Place, Social Media Marketing 3rd Place
Emma Nantz: Retail Management 3rd Place, Organization Behavior and Leadership 3rd Place
Chapter President Emma Nantz sang The Star Spangled Banner to kick-off Thursday's opening meeting. Catawba's chapter also received the Legacy Leadership Award, recognizing excellence in chapter leadership and accomplishments for the year. Two members received Who's Who awards, Emma Nantz and Sam Granillo. Two advisors for the Chapter, Angelia Bates, Ketner School of Business Administrative Assistant, and Dr. Pamela Thompson, Information Systems Associate Professor, also attended the conference.
Future Business Leaders of America – Collegiate, formerly Phi Beta Lambda, is the largest business career student organization in the world with more than 240,000 high school, college, and professional division members. FBLA-C is recognized by the Association for Career and Technical Education, International Assembly for Collegiate Business Education, National Association of Parliamentarians, National Association of Secondary School Principals, National Business Education Association, and the U.S. Department of Education.
Catawba's FBLA-C chapter regularly participates in various College admissions events and special days for prospective and current students. Activities this year included a career workshop, pop-up clothing shop, guest speaker event featuring Catawba alum Nick Kalogeromitros '08 with Albemarle Paper Supply, and the Spring Leadership Conference.