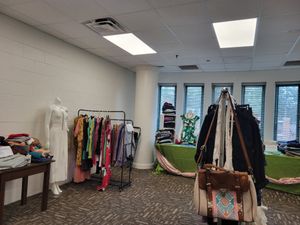 Catawba College's chapter of Future Business Leaders of America - Collegiate, FBLA-C, recently held a Pop-Up Clothing Shop to fundraise for state and national competitions by selling donated clothing to students before they left for spring break.
Planning for the Pop-Up Shop began in January, and FBLA began collecting donations in February. Many faculty and staff donated clothing, and FBLA members were grateful for the donations. The Pop-Up Shop was open February 27th and February 28th from 9:00 a.m. to 6:00 p.m. both days.
The overall goal was to raise $500.
"FBLA-C (PBL) has won national awards for the Clothing Closet business model," said Dr. Pam Thompson, FBLA advisor and associate professor at the Ketner School of Business. "Our members this year took a fresh approach with the 'Pop-Up Shop' concept, which proved to be very successful and a great learning experience for all."
This event was a marketing campaign and fundraiser built into one. Leading up to the event, members organized clothing and set up a real "shop" in the Millard Wilson Computer Lab in Ketner Hall.
Sunday, February 26th, a group of students set up for almost three hours, also sharing the news of the sale via posts and word of mouth. The sale began February 27th, with brands such as Lily Pulitzer, Vineyard Vines, Banana Republic, J. Crew, Anthropologie brands, and more.
Almost everything was priced at $5, $10, and $15. There was even a prom dress for $20, and a wedding dress for $25. By the end of the first day, over $250 had been raised.
On the second day, prices were marked down, and almost everything was sold for $2 or $5. At the end of both days, FBLA raised $600. All of the members of FBLA were excited and grateful for all of the contributions to their cause.
"I've been a part of FBLA since my freshman year, and this is my second year serving as president," said Emma Nantz, president of FBLA-C. "It warmed my heart to see us all come together in this way. Everyone showed up to their shifts to set-up and run the event, and if someone was sick, another member came in and covered. I'm optimistic that this is going to greatly help us go to nationals and achieve even greater recognition for Catawba," Nantz added.
All of the FBLA officers, including Nantz, Madison Smith, Will Ridenhour, Sam Granillo, Harmony Speer, Yahaira Galan-Cruzes, and Jennifer Barrios-Gomez were elated to see the event's success.
"The club's vision was executed beyond expectation." members of FBLA stated. "The Pop-Up Shop was a fun and successful experience in which money was raised for FBLA and people got deals on good clothing!"
Advisor Angelia Bates baked brownies and packaged chocolates to sell at the shop, which were also a huge success.
Each year, FBLA sends students to State and National Conferences to compete in objective tests or in-person presentations, where they compete against other colleges and universities in business competitions. In the past, FBLA members have won both state and national awards at these conferences.
More information about FBLA is located at their website: catawba.edu/pbl/. Students can reach out to Emma Nantz, ernantz20@catawba.edu if interested in joining FBLA-C. The organization can also be followed on Instagram and Facebook at @catawbafbla.