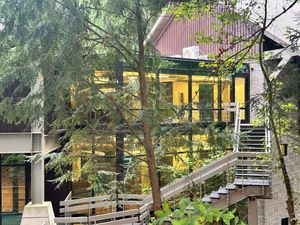 Catawba College was included in the 2024 Princeton Review Guide to Green Colleges. The guide features 522 schools. Catawba is noted for its exceptional programs, policies, and practices related to sustainability and the environment. This list highlights the schools dedicated to increasing and maintaining environmental programs and policies.
"Inclusion in the Princeton Review's Guide to Green Colleges is another recognition of the commitment Catawba has made to sustainability and the environment," said John E.P. Morrison, Interim Director of the Center for the Environment and Executive Director of NC Clean Future. "It also helps prospective students understand that Catawba is a school where they can explore their passion for the environment and discover ways to improve the world around them."
Catawba became the first institution in the Southeast and just the 13th in the nation to be certified carbon neutral earlier this year. Catawba also earned a STARS Silver rating from the Association for the Advancement of Sustainability in Higher Education (AASHE). They also were the first campus in the United States to add Haven solar shelters, providing solar-powered shelters.
The Princeton Review chose the 522 colleges for this edition based on the 2022-23 survey of administrators at 683 colleges. The surveys focused on their institution's sustainability-related policies, practices, and programs. The company also surveyed students who attended the colleges regarding their sustainability-related campus experiences.