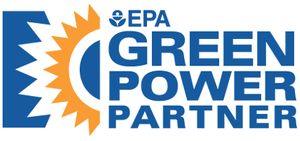 Catawba College has recently joined the US Environmental Protection Agency's Green Power Partnership. Catawba College uses more than 8.5 million kilowatt-hours (kWh) of green power annually, which is enough to meet 100 percent of the College's electricity use. By choosing green power, Catawba College is helping advance the voluntary market for green power and the development of those sources.
Catawba College has 837 kilowatts of on-campus solar facilities, which produce a portion of its electricity. The College also has purchased Renewable Energy Credits from two North Carolina Solar Farms to cover the remainder of its power usage. These Renewable Energy Credits come from the 3 MW Scotland Neck Solar Installation in Halifax County and the 5 MW Chocowinity Solar Project in Beaufort County.
"We are proud to be recognized by the US Environmental Protection Agency," said Brad Ives, Executive Director of Catawba's Center for the Environment. "Using green power helps us reduce air pollution and lower our carbon emissions, while also demonstrating that renewable power is an affordable, accessible option. We're also strengthening our commitment to being the leading environmental small college in the Southeast."
By moving the needle in the voluntary green power market, Catawba College and other Green Power Partners are helping to reduce the negative health impacts of air emissions, including ozone, fine particles, acid rain, and regional haze.
According to the US EPA, Catawba College's green power use is equivalent to the electricity use of more than 800 average American homes annually.
"EPA applauds Catawba College for its leadership position in the green power marketplace," said James Critchfield, Program Manager of EPA's Green Power Partnership. "Catawba College is an excellent example for other organizations in reducing greenhouse gas emissions through green power investment and use."
Catawba College became the first certified institution in the Southeast and the 13th in the nation to achieve full carbon neutrality. Second Nature, a non-profit organization working to accelerate climate action in and through higher education, confirmed Catawba met the group's high standards for determining carbon neutrality seven years ahead of their 2030 climate commitment.
Catawba continues to lead its higher education peers in embracing clean energy innovations and environmental stewardship. In April, they became the first campus in the United States to add Haven solar shelters from Research Triangle Park, NC-based Spotlight Solar. A total of five shelters use bifacial solar panels that allow for power generation on both sides to create clean energy that is stored in batteries under the tabletop. The campus also has a long history of implementing energy efficiency improvements – including geothermal heating and cooling, LED lighting, and double-paned replacement windows – that have dramatically lowered its energy needs.
For more information on Catawba College and its Center for the Environment, please visit catawba.edu/cenv.
About EPA's Green Power Partnership
The Green Power Partnership is a voluntary program that helps increase green power use among U.S. organizations to advance the American market for green power and development of those sources as a way to reduce air pollution and other environmental impacts associated with electricity use. In 2021, the Partnership had more than 700 Partners voluntarily using more than 85 billion kilowatt-hours of green power annually. Partners include a wide variety of leading organizations such as Fortune 500® companies; small and medium-sized businesses; local, state, and federal governments; and colleges and universities. For additional information, please visit www.epa.gov/greenpower.