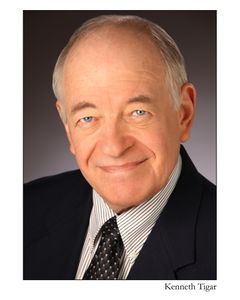 Catawba College's Honors Program is excited to announce they, in conjunction with Barrington Stage Company, are bringing The Happiest Man on Earth to the stage on Wednesday, October 25th at 7 pm in Catawba's Hedrick Little Theatre. The performance is open to the public. The event is free, but tickets are required and may be ordered online.
This remarkable production, starring longtime TV and film actor Kenneth Tigar, brings to life the extraordinary journey of Eddie Jaku, who endured many harrowing experiences while navigating and evading multiple Nazi concentration camps during one of the darkest periods in history.
Eddie's story is one of unimaginable loss, yet it is also a testament to the indomitable spirit of the human soul. Defying all odds, Eddie declared himself "The Happiest Man on Earth," a testament to his resilience and determination to find light even in the darkest of times.
Tigar, as Eddie Jaku, shares the profound narrative of his first 100 years, covering both the depths of human cruelty and the heights of human strength and hope. The biography was published when Jaku was 100 years old.
The one-person play premiered earlier this summer by the Barrington Stage Company in Pittsfield, MA, and received rave reviews. Barrington Stage has brought the production back for a limited run this month due to popular demand. The production by Mark St. Germain is adapted from the memoir of the same name by Eddie Jaku and is directed by Ron Lagomarsino.
Tigar has appeared in numerous television shows, including ER, The West Wing, LA Heat, and Cheers. His film appearances include Lethal Weapon 2 and 3, and the Avengers. Tigar was raised in the Greater Boston area and received his BA and PhD in German Literature from Harvard University. He was active in theater at Harvard as both an actor and a director. He also spent a year at the University of Gottingen and performed in Vienna and other European cities.