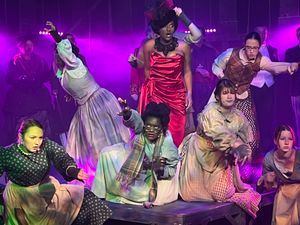 Catawba College and Lee Street Theatre collaborated to present the fantasy thriller Jekyll and Hyde, The Musical original story by Robert Louis Stevenson, Book and Lyrics by Leslie Bricusse, and Music by Frank Wildhorn. Jekyll and Hyde was presented at Lee Street Theatre with community members performing the lead roles from October 13th to October 29th. The same production with the same stage and creative team moved the show to Catawba College where Jekyll and Hyde will perform at Hedrick Little Theatre on November 10th, 11th, 17th, and 18th at 7:30 p.m. and November 12th at 2:30 p.m. The ticket prices are $15 for adults aged 18 to 55, $10 for non-Catawba students and adults aged 55+, and free for Catawba students, faculty, and staff members. For tickets and additional information, visit www.catawba.edu/theatretix, call the box office at (704)-637-4481 between 2:00 to 5:00 pm on weekdays or email boxoffice@catawba.edu.
"This has been an amazing learning opportunity," said Catawba College junior Sarah Bedini. "It's the same show with the lead actors swapped out for Catawba students."
"We've been shadowing our community actor partners for the entire process," said Camden Trimmer, who is taking over the role of Dr. Jekyll/Mr. Hyde. "It has been a profound learning process."
Debuting in 1997 at Plymouth Theatre, Jekyll and Hyde is "[a]n evocative tale of two men – one, a doctor, passionate and romantic; the other, a terrifying madman – and two women – one, beautiful and trusting; the other, beautiful, and trusting only herself– both women in love with the same man and both unaware of his dark secret. A devoted man of science, Dr. Henry Jekyll is driven to find a chemical breakthrough that can solve some of mankind's most challenging medical dilemmas. Rebuffed by the powers, he makes himself the subject of his experimental treatments, accidentally unleashing his inner demons and the man the world would know as Mr. Hyde."
Bedini expressed her enthusiasm for this collaboration between Catawba and Lee Street Theatre. Sarah is a part of the Catawba version of the cast of Jekyll and Hyde. Because she attended Lee Street rehearsals, Bedini knew the character and movement, which ultimately sped up her development process. "The most challenging aspect of the process was translating the musical between stages and bringing everything together. However, the best part of the process was skipping blocking rehearsals and working on the finished set.
Aslyn Goodwin, a sophomore at Catawba College, was in the Lee Street version of Jekyll and Hyde and continues into Catawba College's rendition. When comparing the two productions, she noticed the difference in maturity levels. "Lee Street has volunteers who have been working in theatre for longer than the students at Catawba; this allows us to learn from the experienced actors." When discussing the transition to the new production, Goodwin said, "it was easier than I expected because most of the Catawba cast was in the Lee Street cast." Goodwin had to switch characters between the two productions, which required a slight adjustment, and some of the dance routines changed, "but everything else went smoothly." When asked about her favorite aspect of Jekyll and Hyde, Goodwin stated she enjoyed working with community members in Salisbury on this project. "I could not work much with Lee Street Theatre during my first year, so the opportunity to do so now has been amazing."
Trimmer takes over the role of Dr Henry Jekyll/Edward Hyde, Bedini is Emma Carew, Madison Alwran is Lucy Harris, Andrew Monroe is John Utterson, Drew Weant is Sir Danvers Carew, Goodwin as Lady Beckonsfield, Tom Schrachta as Bishop of Basingstoke, Hayley McCann is Lord Savage, JC Britt is General Lord Glossop, Evan Moreno is Sir Archibald Proops, Zoe Logan as Nellie, Kevin Leichman is Spider/Simon Stride, Nicholas Fuqua is Poole/Mike/Albert/Priest (High Tenor), Winter Hamilton is Bissett, and Maryella Rosko, Francine Green-Thomas, Autumn Perkins, Adison Schwab, Caeley Mayo, Eva Vink, Grayce Pittman, and Alana Williamson as the Ensemble/Chorus.
The crew includes Alana Williamson as Dance Captain, Zac Hunter as lead audio engineer, Carolyn Wassel and Lindsey Hart as assistant audio engineers, Teresa Greene as Light Board Operator, Kenzie Cloninger as Stage Manager, and Skye Sterrett, Andrew Moore, and Tristen Surgeon as Running Crew.
Catawba Theatre Arts does not proactively offer advisories about subject matter, as sensitivities vary from person to person. If you have any questions about content, age-appropriateness, or stage effects (such as strobe lights or theatrical fog) that might have a bearing on patron comfort, please get in touch with the Theatre Arts Department at boxoffice@catawba.edu or 704-637-4481 or ask at the box office.
Jekyll and Hyde contains lighting effects, sudden loud noises, theatrical fog/haze, scenes of violence, adult language, sexual situations, and mature content.
By Haley White