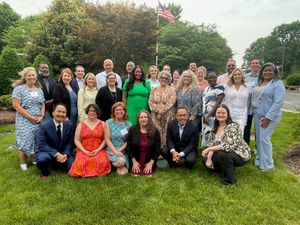 The Rowan Chamber of Commerce is proud to announce the graduates of the 2022-2023 Leadership Rowan Class. Twenty-eight participants have completed all requirements to graduate from the 30th Anniversary Class and were recognized at the Chamber's Power in Partnership breakfast this morning.
"We are extremely proud of these individuals who have completed this prestigious nine-month long program. The Leadership Rowan program has a proud history of success with over 775 graduates from the past 30 years. The Steering Committee has worked hard to make this year's anniversary class a valuable & meaningful experience," said Nick Means, F&M Bank and Steering Committee Chairman.
Graduates of the 2022-2023 Leadership Rowan Class are: Tracy Alewine (Walser Technology Group, Inc.); Angela Alford (Rowan-Salisbury School System); Pierce Allman (Alan F. Burke, CPA, PA); Jodi Bailey (Catawba College); Chris Barringer (Atrium Health); Andrea Davis; Shelby Davis (Global Contact Services); Amy Estridge (Lutheran Services Carolinas); April Everett (Rowan County Government); Alexandra Fisher (Meals on Wheels Rowan); Peter Franzese (Town of Spencer); Brad Gorman (City of Salisbury); Therese Henderson (Courtyard by Marriott Salisbury); Gregory Hill (Livingstone College); Rachel Jordan (Novant Health Foundation); Souwan Kiengkham (City of Salisbury); Dr. Christine Lynn (Catawba College); Amanda May (Smart Start Rowan); Joanie Michael (Rowan EDC); Amber Morgan (Moose Pharmacy); Dr. Chris Nesbitt (Rowan-Cabarrus Community College); Hope Oliphant (Main Street Marketplace); Raeshawn Palmer (Rowan Helping Ministries); Jordi Roman (Rowan-Salisbury School System); Kimberly Stieg (Historic Salisbury Foundation, Inc.); Charles Whaley III (Healthcare Management Consultants); and, Ralph Young (Unlock Me Bail Bonds).
Leadership Rowan is a nine-month program, where participants meet once a month, and get an in-depth view of community issues, develop skills necessary to assume leadership roles, and are exposed to community involvement opportunities. Existing leaders and budding community volunteers are encouraged to apply for this elite program. Participants will study the qualities that make an effective leader, understand their own leadership styles, and develop new skills that will help them in the workplace.
The deadline to apply for next year's 31st Leadership Rowan Class is Friday, May 19, 2023, and applications are available at rowanchamber.com. The Chamber's Leadership Rowan Steering Committee will select the class. Members of the Leadership Rowan Steering Committee are: Lorie Aldridge (Trinity Oaks), Johnathon Boles (Catawba College), Kaisha Brown (City of Salisbury), Brian Canavan (Novant Health Foundation). Alisha Byrd-Clark (Gemstones & Compass Leadership Academy), Shawn Edman (Prevent Child Abuse Rowan), Deborah Johnson (Livingstone College), Eric Lipscomb (Global Contact Services), Nick Means (F&M Bank),
For more information on the Leadership program, please contact Erica Church at the Rowan Chamber at (704) 633-4221 or echurch@rowanchamber.com.