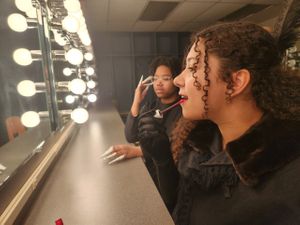 Women's hope, fear, and horror take center stage in Michelle Medina Villalon's new play based on her senior honors thesis.
Salisbury, NC – The Catawba College Theatre Arts Department and the Blue Masque are proud to present Mythos, a Blue Masque production written and directed by senior Michelle Medina Villalon. Mythos runs in the Florence Busby Corriher Blackbox Theatre, behind the Robertson College Community Center, on February 3rd and 4th at 7:30 p.m. and February 5th at 2:30 p.m. For tickets and additional information, visit catawba.edu/theatretix or email the box office at boxoffice@catawba.edu.
Mythos is a student produced show that is a fund raiser for the Blue Masque. The Blue Masque has a long tradition of producing student-led works like Mythos and generous patron support keeps the tradition alive. Catawba student, faculty, and staff free tickets may not be used for Mythos. Tickets are: $10 for faculty, staff, and the general public; $8 for adults 60+ and non-Catawba students aged 7-17, and $5 for Catawba students.
"I am an avid fan of the horror genre, and I was interested in exploring the disparity between real, American women, and their representation in horror media," said director/playwright Michelle Medina Villalon. "The vision of my thesis was to create an original work of horror that focused on addressing the genre's shortcomings regarding female representation. Mythos is a realization of my honors thesis, 'She's Alive!': Devising a Feminist Horror Narrative for the 21st Century Theatre."
Mythos tells the powerful stories of La Llorona, Marie Laveau, The Bell Witch, and The Lady in Red, all based on urban legends. Medina Villalon and the company guide the audience to a deeper understanding of compelling characters who speak to themes that are still relevant today.
Medina Villalon continues, "These women exist in the shadows of our rooms late at night, creeping in the corners of our eyes. Generations have repeated these stories, but we're left wondering, who are these women?"
Mythos unmasks these mystical characters, removing the veils of horror and mystery to reveal the real female experiences behind the myth: their suffering, their pride, their joy, and their power. With a powerhouse cast, a focus on female empowerment, and overcoming adversity, the characters in Mythos reclaim their stories from myth and legend.
The cast includes sophomore Winter Hamilton as La Llorona, first year Aslyn Goodwin as The Lady in Red, first year Ila Deese as The Bell Witch, and first year Alana Williamson as Marie Laveau.
Student production staff includes Kenzie Cloninger as Stage Manager, Sarah Ann Burke as Box Office/Publicity, Zac Hunter as Scenic Designer, Julia Rockwell as Costume Designer, Colleen Welday as Lighting Designer, Cameron Barnes as Sound Designer, and Kiera Whittemore as Makeup Designer.
Catawba does not offer advisories about subject matter, as sensitivities vary from person to person. Mythos is not recommended for patrons younger than 14. If you have any questions about content, age-appropriateness, or stage effects (such as strobe lights or theatrical fog) that might have a bearing on patron comfort, please contact the appropriate box office.