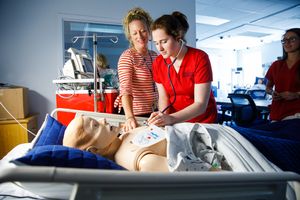 A generous $1 million gift this summer from an anonymous donor will serve as a growth catalyst for Catawba College's nursing program. The funds will be used for scholarships for new students pursuing a degree in nursing, and for two faculty nursing positions.
"These scholarships will be available for students enrolling in the Fall 2024 class with a 3.9 GPA or better," said Dr. Jim Hand, Dean of the School of Health Sciences and Human Performance. "We anticipate we will be able to create scholarships for approximately 15 to 20 students for all four years of study at Catawba as long as they continue in nursing and maintain a qualifying academic standing. We are so thankful to our donor for the opportunities these scholarships will provide new nursing students at Catawba."
Dr. Valerie Rakes is Catawba's Chair of the Department of Nursing. She added: "It is an honor for the program to receive a gift that will enable the Department of Nursing to strategically grow in numbers and faculty. With the current and projected shortage of registered nurses in healthcare, scholarships will allow more students to enter the nursing workforce and fill much-needed positions in the profession.
"Most nursing program students are from Rowan or surrounding counties at Catawba," continued Rakes. "Additional scholarships will allow more students to attend a prelicensure BSN program, in their community, and work in local hospital systems during clinical rotations. This provides a great benefit for recruitment and employment during and after graduation."
"These onsite experiences build on the extensive education provided in Catawba's state-of-the-art simulation lab," added Hand. "They also serve to create avenues to employment that help meet the need for nurses, including right here in the Salisbury-Rowan community."
The addition of two new faculty positions will ensure the nursing program continues to grow and thrive. "This gift enables us to add a faculty member in the traditional nursing curriculum and a simulation laboratory specialist," said Hand.