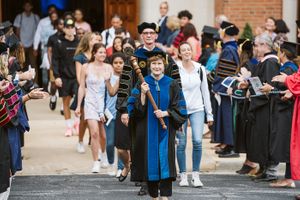 Catawba College kicked off the official start of their 173rd academic year at their Opening Convocation held Tuesday, August 15th in the Omwake-Dearborn Chapel.
Catawba College welcomed over 450 new undergraduate and graduate students to the College this Fall with classes beginning Wednesday, August 16th.
Rev. Kendra Joyner-Miller '11 offered the invocation followed by Dr. David P. Nelson, Catawba College president, and Dr. ChaMarra Saner, interim provost, installing this year's junior marshals. Convocation attendees were also introduced to new student government officers including Suzie Rodriquez, president; Lauren Swallow, vice president; and Leon Heiermann, in a second term as treasurer.
Members of the campus community heard brief remarks from Suzie Rodriquez '24, student government association president; Robert B. Arnold, Jr. '71, Catawba's board of trustees chair; Dr. Luke Dollar, acting chair of the faculty senate; and Holly Bautista, staff council chair. Mayor Karen Alexander brought greetings on behalf of the City of Salisbury.
In his convocation address, President Nelson called the college to reflect together on the Catawba Ideal, represented by the terms on the college seal: "scholarship with character and culture for service." Speaking of service, which is the aim of the college ideal, Nelson said, "This is why you hear me talk about the people of Catawba making the world more like the place we all want to live." As the 2023-2024 academic year begins, he reminded those gathered to join in that shared college goal of creating the campus community. "This is our time to live out the Catawba ideal together, to welcome the light of learning, the light of truth, the light of love."
Following Convocation, the campus community gathered to enjoy a meal together al fresco with dining choices curated from a flotilla of food trucks.
About Catawba College
Founded in 1851, Catawba College is a four-year, private, liberal arts college conveniently located in Salisbury, NC. Ranked as one of the best regional colleges in the South, Catawba is a learning community providing students unique opportunities to discover their vocation, calling, passions, and purpose as they prepare to reach their highest potential. The College offers more than 70 undergraduate and three graduate programs allowing students to explore diverse interests and create their own academic pathway. Additional information is available at catawba.edu.