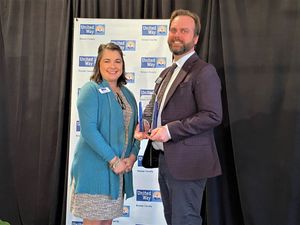 Catawba College received the Power of Partnership Award from the Rowan County United Way this month at their annual meeting
The Power in Partnership award is presented to a person or company who personify collaboration by extending their hearts, minds, dollars, and/or good to further the mission of the United Way in an invaluable and immeasurable way.
Catawba's United Way campaign was led by co-chairs Dr. Jared Tice, Senior Vice President for the College Experience and Dean of Students, and Jodi Bailey, Director of Marketing and Communications. Tice was on-hand at the annual event to receive the award.
Catawba's faculty and staff continue to support the Rowan County United Way through monetary donations along with their volunteer hours. This award is a representation of their generosity.
"In addition to supporting our campaign, Catawba College has went above and beyond to ensure our success by giving a home to our Into the Light Suicide and Mental Health Awareness Walk and generously sharing their time and talents to our Day of Caring event," said Jenny Lee, Rowan County United Way Executive Director. "We cannot thank them enough for their contributions to us and our entire community."