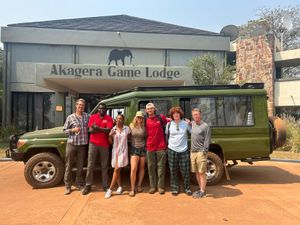 A group of five Catawba College students, accompanied by two professors from Catawba's Department of Environment and Sustainability, recently embarked on a once-in-a-lifetime journey to Rwanda to participate in an international conference and engage in unforgettable experiences that combined education, conservation, and adventure.
The five students, Mitchell Bobrek, Larkin Garden, Brian Kaelo, Nomsa Kamanga, and Matthew Peeler, presented their research on addressing human-wildlife conflict at the International Congress on Conservation Biology (ICCB) in Kigali, Rwanda. ICCB is the world's preeminent conservation conference and takes place every other year. This year brought together 1,500 biologists, conservationists, and policymakers from around the world, and provided a platform for these scholars to share their findings. The student's research evaluated the effectiveness of adding flashing LED lights (aka 'Lion Lights') to livestock corrals to deter carnivores from attacking livestock in a small community in southwestern Kenya.
"Seeing these passionate individuals who have dedicated significant portions of their lives to their projects was truly incredible and has me considering a more significant role of research in my academic journey," said Peeler.
Catawba faculty members Dr. Andrew Jacobson and Dr. Joe Poston also presented their own research at the conference.
Following the conference, the group seized the opportunity to immerse themselves in the unique beauty of Rwanda's natural treasures. Their trip took them to Volcanoes National Park, where they had the rare privilege of coming face-to-face with majestic mountain gorillas. This encounter not only heightened their understanding of the importance of wildlife conservation and local engagement in protecting biodiversity but also left an indelible mark on their personal growth and appreciation for the world's ecosystems.
"This was a once-in-a-lifetime experience and I'm so grateful to Catawba and my professors for making this dream come true," said Kaelo after seeing the mountain gorillas.
Bobrek added, "As we were about to leave, the silverback gorilla, weighing over 500 pounds, walked downhill right towards me. I immediately did what the guides had instructed, kneeling down and avoiding eye contact. I held my breath and thankfully he turned away before bowling me over. The encounter was just a few seconds, but they are seconds that I'll never forget."
Continuing their expedition, the Catawba College group journeyed to Akagera National Park on a self-guided safari in search of more of Africa's wildlife, including some of the subjects of their own research presented days earlier. The park has 10 freshwater lakes along with rolling wooded hills and open plains. Akagera is a 'big 5' park, home to elephants, rhinos, cape buffalo, lions, and leopards.
"My highlight was going on the evening boat cruise.," said Kamanga. "It was calming, peaceful and we saw more birds than I could imagine."
After the safari, the group visited a groundbreaking drone company, "Zipline," that is reshaping the medical supply delivery landscape. Zipline is a for-profit company facilitating the delivery of life-saving medical supplies, such as blood and medicines, to remote and underserved areas in Rwanda and several other countries. Witnessing firsthand the potential of cutting-edge technology to address pressing global challenges was an eye-opening experience for students and professors alike. Catawba's Department of Environment & Sustainability also hosts a GIS minor, including drone coursework.
Dr. Luke Dollar, chair of the Environment & Sustainability department, expressed his pride in the group's endeavors. "At Catawba College, we believe in empowering our students to become global citizens who contribute positively to our interconnected world. This journey to Rwanda epitomizes our commitment to experiential learning and fostering a deep appreciation for cultivating the next generation of needle-movers and game-changers in pursuit of a healthier planet."
"Visiting Rwanda has stressed the importance of the conservation of humans and making sure that every human feels heard," said Garden. "This isn't something often talked about in conservation work. But, before we can ever protect any organism, we must first ensure that the people who coexist with these organisms are being listened to and empowered. You can't conserve mountain gorillas if you ignore the needs of the farmers living right next to their forest."