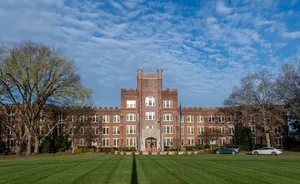 The Teagle Foundation has awarded Catawba College a $75,000 grant to support The Pursuit, a humanities scholarship program for first-year students. The grant will increase access and expand the reach of the program to a greater portion of Catawba's incoming students.
"We are very excited about this grant from the Teagle Foundation," said Associate Professor of English, Dr. Patrick Swaney. "We started The Pursuit program thanks to a generous gift from a donor. This grant funding will allow us to provide additional students with opportunities to meaningfully engage with the humanities."
The Pursuit introduces Catawba students to the humanities through transformative texts and provides them with important context for their remaining coursework, academic endeavors, and professional aspirations. While improving their reading, writing, critical thinking, and communication skills, students will engage with big questions, like what is happiness, what does it mean to be successful, and how do you lead a life of purpose, virtue, and fulfillment. They will gain a broader lens, across culture and time, through which to view their studies, career, and life goals.
"I love that this Teagle grant allows us to support our students in their exploration of interdisciplinary humanities," said Dr. Megan Flocken, Assistant Professor of Philosophy. "I've been able to connect with so many students about philosophy, a subject which they might not have otherwise encountered. To get hands-on with philosophy means discovering how critical thinking shapes your ability to learn and grow, and finding what matters to you in your worlds as fundamental to each personal journey through life. This Fall I am guiding first-year students through an examination of what it means to be a hero (and villain), by working through our reading of a play, an autobiography, and a graphic novel, all forms of expression so fundamental to the study of humanities. Thanks to community partnerships and donations, Pursuit students will also get to experience our lessons in engaging field adventures—through Salisbury grave sites, Old Salem, a film series, and even a trip to Washington, DC for veteran Pursuit members."
Students are invited to apply for the program to receive a $2,000 scholarship their first year, with additional funding opportunities available in their following four years at Catawba.
To receive the initial $2000 scholarship, students complete two courses in their first year—a special section of GEN 1200: First-Year Seminar in the Fall and HUM 2000: Transformative Texts in the Spring. These courses satisfy credits toward graduation.
The first year of the program saw 51 students completing the two-course sequence. The coursework was supplemented by a variety of enrichment activities including visiting writers and filmmakers including Maria Dahvana Headley, Jacques Belliveau, and Ottessa Moshfeigh, humanities-themed scavenger hunts, and historic tours.
"The Pursuit presents exciting opportunities for our students," adds Dr. Anne Marie Martin, Assistant Professor of History. "Often, high school courses focus on a single subject, but thinking about topics in interdisciplinary ways is fundamental to The Pursuit. On a personal note, I have really enjoyed the opportunity to teach in our Pursuit program. It has been a lot of fun to participate in a program that focuses on the humanities broadly and to collaborate with colleagues in different disciplines."
Throughout their freshman year, students also participate in a variety of enrichment activities unique to The Pursuit. Students attend lectures with important scholars, have dinners with successful and well-connected alumni of Catawba College, visit museums, attend literary readings, see performances, and more.
Students accepted to Catawba College for Fall 2024 are encouraged to apply to join The Pursuit by completing an application and writing a short essay in response to an assigned question.
The Scholarship Award
If selected to join The Pursuit, students will receive a $2000 scholarship as part of their financial aid package during their first year at Catawba College. Students who decide to minor in the Humanities, English, History, Modern Foreign Languages, or Religion will qualify for $2000 per year until their Senior Year (an $8,000 scholarship). Students who decide to major in a Humanities field will receive $2,500 per year until their Senior Year (a $9500 scholarship).
For more information, please contact pursuit@catawba.edu or visit the website: catawba.edu/pursuit.
About the Teagle Foundation
The Teagle Foundation works to support and strengthen liberal arts education, which we see as fundamental to meaningful work, effective citizenship, and a fulfilling life. Our aim is to serve as a catalyst for the improvement of teaching and learning in the arts and sciences while addressing issues of financial sustainability and accountability in higher education. For more information, visit teaglefoundation.org