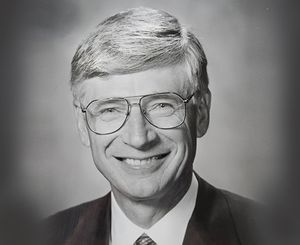 Tom Smith exemplified the very best of Catawba College.
Tom Smith was a dear friend to Catawba College, where he was an alumnus (BS in Business Administration, 1964) and long-time member of the Board of Trustees (1986-2014). He served as Chair of the Board, guiding the College alongside three presidents from 1997 to 2008.
A native of China Grove, NC, Tom worked at Food Town (now Food Lion) as a bagger while in high school, in the era when groceries were carefully bagged for customers, placed in their cart, rolled out to their vehicle, and loaded for them. He continued to work at Food Town during his college years to pay for his education, at times working seventy hours a week between Food Town and pumping gas at a service station on Sundays. He soon was made manager of a new Food Town in Kannapolis, NC.
After graduating from Catawba, Tom served in the Army Reserve from 1968 to 1972 and worked in sales for Del Monte for several years, returning to Food Lion in 1971 as a buyer. By 1980, Tom had become Food Lion's president and chief operating officer, and in 1986, its chief executive officer. Continuing the chain's focus on everyday low prices and good service emphasized by Ralph Ketner, Food Lion's co-founder and chairman, by the end of Tom Smith's first year as CEO Food Lion cleared $2 billion in sales. Through television commercials, he would also become known as the face of Food Lion in the 1980s and 90s. When he followed Ketner as Chairman in 1990, Food Lion had expanded to states throughout the Southeast and the Mid-Atlantic. In 1990 alone, the company opened twenty new stores and surpassed $5.6 billion in sales.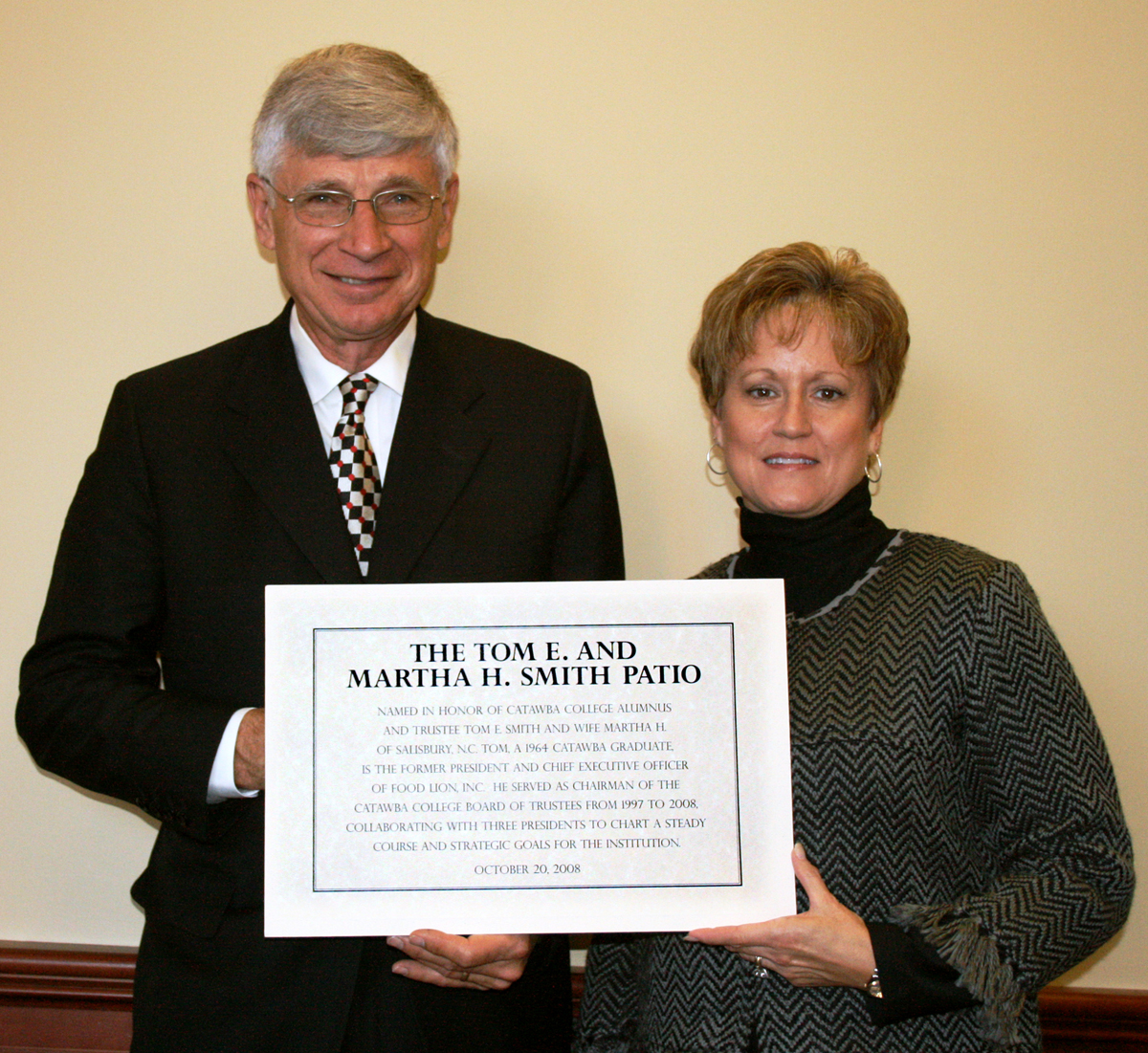 To support students following his footsteps in Catawba College's Ketner School of Business, in 1992 Tom established a scholarship fund. Through the Tom Smith Scholarships, recipients are awarded up to $3,000 annually, participate in six to eight programs each year through the Ketner School of Business, attend an annual luncheon with Tom and Martha Smith for personal interaction and mentoring, and as upperclassmen serve as mentors to first-year recipients of the scholarship. The students must maintain a 3.2 GPA to receive the scholarship. To date, 650 students have received the Tom Smith Scholarship.
Tom retired from Food Lion in 1999, and in retirement, continued his faithful service on the Catawba College Board of Trustees. Under his chairmanship, the College completed three successful fundraising campaigns. The first, completed in 2002, was a capital campaign which raised nearly $60 million. The second, completed in 2007, was for facilities and raised more than $10 million with a bond issue, enabling construction of the five new apartment-style residence halls of Abernethy Village, renovation of the campus library and student center, and an addition to the student center. The third campaign, completed in 2008, raised $35 million for the College's endowment.
Also during Tom's tenure as Board Chair, the college selected its 21st president; a geothermal heating and cooling system was installed on campus, followed by air-conditioning of all residence halls and the Omwake-Dearborn Chapel; internet access was installed in all buildings along with wireless internet connectivity over most of campus; a new Shuford Stadium was built and lights were installed to allow evening play; the Hayes Field House was built; the Center for the Environment was constructed thanks to what was then the largest gift in Catawba's history, $6 million, given by the late Mrs. Elizabeth Stanback and her family; the College celebrated its sesquicentennial in 2001; and several vital programs were created including the Lilly Center for Vocation and Values, the Glenn and Addie Ketner Center for International Studies, and the Shirley Peeler Ritchie Academy for Teaching. Catawba College graduated over 3,200 students during those eleven years.
Tom led Catawba's Board of Trustees to add 28 new members, establishing leadership for the future in the period that Catawba suffered great loss through the deaths of trustees Adrian L. Shuford, Jr., Enoch Goodman, Bob Keppel, Katharine Osborne, Theodore Leonard, Roger Lofland, and Clifford Peeler.
Tom Smith's legacy will live on at Catawba College. In recognition of his dedication and outstanding service to Catawba College and its Board of Trustees, upon his passing the gavel as board chair in October 2008, the Tom E. and Martha H. Smith Patio of the Cannon Student Center was named in honor of Tom and his wife. And the Tom Smith Scholarships will continue Tom's legacy of support for Catawba College students.
Aptly described as down-to-earth, from an early age Tom saw the value of hard work. He once explained that while his father worked in the construction department at Cannon Mills, he joined his mother in the fields and started picking cotton at age 6 as a way to earn money with the goal of buying himself a new jacket, having long been the recipient of a cousin's larger hand-me-down clothing. Next, he decided to grow a garden, tending it after his schoolwork and chores were done and selling produce from it. At age twelve, he grew his own cotton crop. It was not unusual for children in the 1940s and 1950s to work in the fields or do yardwork for neighbors to help out their families or to earn their own spending money to buy wants as well as needs. Still, it was not simply about the money for Tom, who always said that he "enjoyed setting a goal and accomplishing it." He saved much of what he earned and bought savings bonds. He took odd jobs wherever he could. Then, in his junior year of high school, he decided to get a job at Food Town.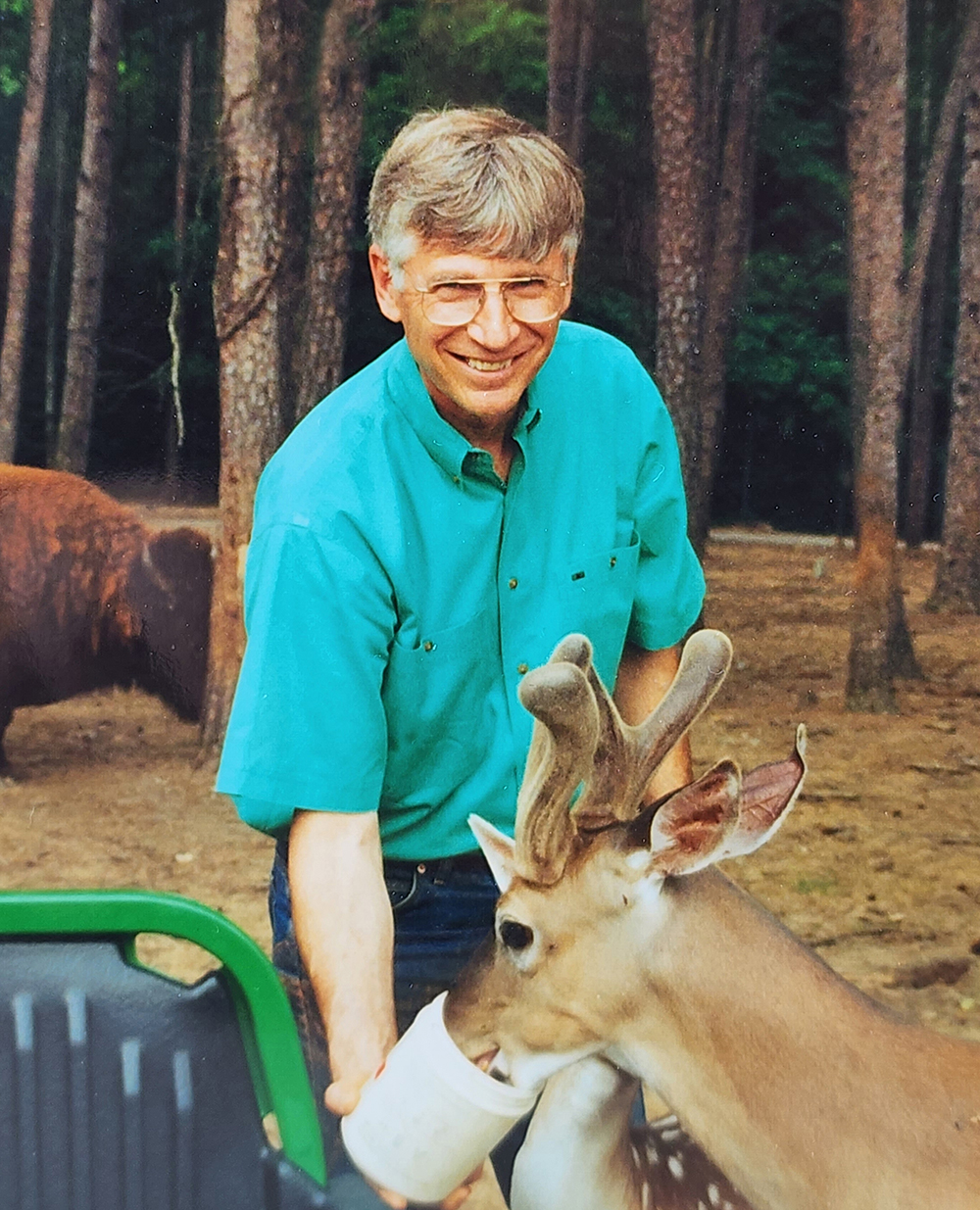 In addition to many accomplishments in his career, Tom was active in both the Catawba College community and the local community, and his tireless efforts garnered recognition. He served on the local boards of the United Way, Rotary Club, Chamber of Commerce, The Foundation For the Carolinas, The Salisbury Community Foundation, the Salisbury Sales and Marketing Club, and the North Carolina Council of Management and Development. He also served as a member of the Salisbury Board of NCNB National Bank, which he chaired, the National Association of Retail Grocers of the United States, F&M Bank, and the North Carolina Food Dealers Association.
Many plaques bear his name in and on area buildings, among which are the Tom Smith Auditorium in Ketner Hall at Catawba College; the Tom and Martha Smith Performing Arts Center at the Meroney Theatre; the Tom E. Smith Place at the Salisbury Station; the Tom & Martha Smith Event Center at Lee St. Theatre; and the addition to the Price of Freedom Museum. He was also involved in supporting the North Carolina Research Campus in Kannapolis.
Some of Tom's other notable accomplishments and awards include:
Distinguished Alumni Award, Catawba College - 1982
Honorary Degree of Law from Catawba College - 1986
Martin Luther King Humanitarian Award - 1987
Bronze & Silver CEO of the Year Award from Financial World Magazine - 1988
North Carolina Grocer of the Year Award - 1989
Civic Commitment Award, National Council on Aging - 1989
O.B. Michael Award, Catawba College - 1990
Catawba College Business Hall of Fame - 2008
Adrian L. Shuford Jr. Award for Distinguished Service to Catawba College - 1993
named Trustee Emeritus by the Catawba College Board of Trustees - 2014
named by Easter Seals as its North Carolina and Virginia Champion - 2019
Despite the many awards he received, Tom did not seek accolades. Countless quiet and selfless contributions he made remain known only to a few.
Tom once shared that he had to be urged to take a vacation, had to learn how to vacation, and did not start taking vacations until he was in his thirties. He discovered that he liked hunting, and as many hunters are, was a staunch advocate of animal conservation. He enjoyed traveling. He appreciated vintage vehicles and was a fan of John Deere equipment. He was a member of St. John's Lutheran Church in Salisbury. Tom is survived by his wife Martha, two daughters Nancy and Leigh, and three grandchildren with one on the way.
As a mark of respect for Tom's exemplary service and life, David P. Nelson, Catawba College's President, has ordered the College flag to be flown at half-mast on campus as we mourn this tremendous loss for our community.