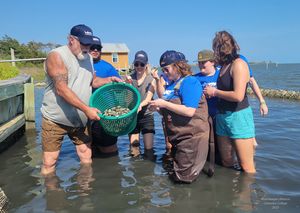 On May 7, six Catawba College undergraduate students traveled to New Bern, NC to participate in the inaugural Clean Water Advocacy Boot Camp organized by Waterkeeper Alliance, a global network of community-based advocates who patrol and protect more than 2.5 million square miles of rivers, lakes, and coastal waterways in 47 countries.
The pilot program was developed as part of its Pure Farms Pure Waters campaign, which calls attention to the destructive pollution practices of industrialized meat production, ensures compliance with environmental laws, and advances environmental justice for impacted communities.
Over the course of ten days, Larry Baldwin, Pure Farms, Pure Waters North Carolina Campaign Coordinator and Rick Dove, Senior Advisor & Neuse Riverkeeper Emeritus, led the students through a clean water advocacy experiential learning intensive that students said, "opened their eyes and changed their lives." Students spent time in the classroom learning from and engaging with experts in fields such as science advocacy, environmental law, state and local politics, environmental advocacy filmmaking and photography, and community organizing to speak on industrial hog farming in eastern North Carolina and environmental advocacy more broadly.
To kick off the Boot Camp, students flew in small airplanes with SouthWings, a regional nonprofit, learning to conduct aerial surveys of confined animal feeding operations (or CAFOs) pollution. On the ground, the cohort spent time sampling water for pollution, observing hog waste sprinkler systems, engaging with local residents directly impacted by CAFOs, and attending a public permit hearing. Students also had the unique opportunity to meet former industrial poultry farmers working to hold the industry accountable. On the water, students went clamming and traversed a tributary of the Neuse River with a commercial fisherman to observe the ecological health of the river and learn how pollution impacts the fishing industry in the state.
Perhaps the most impactful experience was the visit to a working hog farm. Farm owner, Tom Butler, welcomed students to his farm to discuss the complexity of industrial hog farming. Butler discussed the challenges he's faced as a farmer working to improve the system. He gave a tour of the innovative waste management system that distinguishes his farm from other hog farms in the area. Rather than the industry standard in North Carolina of using open cesspools and sprinkler systems, Butler encloses the waste and processes it to generate electricity for his farm and surrounding neighbors.
Mo Benigno, a student involved said, "Walking through a hog farm is something that you cannot describe to somebody. You can catch glimpses on a picture or video, you can see one from the roadside or the air, but there's nothing like walking through one yourself." Seeing and smelling firsthand the animals and the magnitude of solid and gaseous waste produced by the hogs afforded students an eye-opening, perspective-shifting experience only possible by being there in person. "We got to see the reality of the situation. Most people never get that chance and therefore aren't fully aware of the impact of CAFOs," stated student participant, Josh Warstler.
Students also had the chance to explore and enjoy the environment they are training to protect. Waterkeeper Alliance arranged for the cohort to meet people who make their living by sustainable and environmentally friendly fisheries (oyster and clam farms). On the weekend students paddled Turkey Quarter Swamp and took a day trip to the beach.
Students left the Boot Camp profoundly affected by the unique hands-on experiences that were made possible by Waterkeeper Alliance. Through this experience, students were able to draw direct connections between what they learned in the classroom to real-life impacts. Mo Benigno explained, "During a student's time in college, we learn a great deal about the information necessary for successful careers in environmental advocacy. Still, it wasn't until this Boot Camp that I got real-life experience in practical application. The Waterkeeper Boot Camp prepared me for my vocation, and I will never be able to thank them enough."
The ten days together was a once-in-a-lifetime experience for everyone involved. Catawba students and staff had a hard time putting the entire experience into words. They settled on…profound. Going forward, Waterkeeper Alliance and Catawba College are working to continue their collaboration to provide this once-in-a-lifetime opportunity for additional Catawba students in the future.
About Catawba College
Founded in 1851, Catawba College is a four-year, private, liberal arts college located in Salisbury, N.C. Ranked as one of the best regional colleges in the South, Catawba is known for its intellectual rigor, dedicated faculty, beautiful campus, and strong commitment to sustainability and the environment. The College offers more than 70 undergraduate and four graduate programs allowing students to explore diverse interests and create their own academic pathway. Additional information is available at catawba.edu.
View Photos: