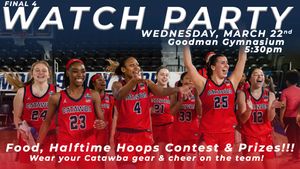 The Catawba College women's basketball team advanced to the NCAA Division II Women's Basketball Final Four Monday afternoon. Catawba, the No. 6 seed defeated No. 3 seeded Cal State Dominguez Hills on Monday 77 to 70 to become the first South Atlantic Conference women's basketball program to ever reach the national semifinals.
Catawba will face No. 2 seeded Minnesota-Duluth Wednesday March 22nd at 7:00 ET at the Civic Center in St. Joseph, Mo.
Join us for a Final Four Watch Party on Wednesday in Goodman Gym! Food will be served beginning at 5:30 PM to all Catawba fans in attendance. Live video of the game will be streamed on big screens beginning at tipoff at 7 PM. We will also have a halftime hoops contest and prizes. Wear your Catawba gear and help us cheer on our women's basketball team as they look to advance to the National Championship game in Dallas.
If you can't join us on Wednesday, Catawba fans can watch the game live by visiting this link: https://www.cbssportsnetwork.com/