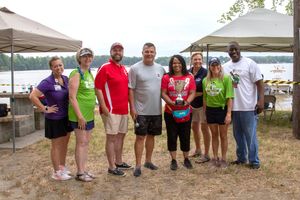 The Rowan Chamber of Commerce presented the 2023 Novant Health Workplace Wellness award to Catawba College at this year's Dragon Boat Festival.
"Catawba College started an 'exercise is medicine' program, encouraging employees to make physical activity a sign of health, promote Monday Mile with walks around campus, and lowered employee health care costs," said Gary Blabon, President of Novant Health Rowan Medical Center.
Novant Health has presented this award for the past eight years to encourage workplace wellness programs. Previous winners have included: Hitachi Metals, Rowan County Government, City of Salisbury, Healthy Rowan, Trinity Oaks, Food Lion, and Health Care Management Consultants.
"The traveling trophy is presented during the Chamber's Dragon Boat Festival to recognize successful workplace wellness programs," said Chamber President Elaine Spalding. She continued, "We want to encourage all employers to develop their own workplace wellness programs. Healthy Rowan can be a great resource for any size employer to start their program."
For more information on the Rowan Chamber at (704) 633-4221 or info@rowanchamber.com or rowanchamber.com