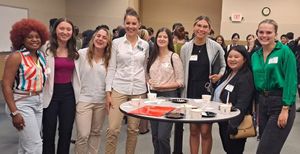 Six Catawba College students attended the annual Women in Finance Symposium at North Carolina State in Raleigh, NC on September 15th. This event allowed students to meet with industry leaders, discuss their path to success, and share their future career opportunities for women in finance.
The participating Catawba students include Berta Vidal Carnero, Lillie Martin, Serena Christie, Hannah Wegenaar, Lig Vang, and Vaishnavi Venkatesh. Dr. Joanna Trammell, Associate Professor of Business, accompanied the group of Catawba students.
The symposium was hosted by NC State's Financial Mathematics graduate program and the Graduate School. It was free and open to all undergraduate students. The panelists at the event shared their personal experiences and highlighted job opportunities that were specific to women.
Alongside the discussion, attendees were provided with a lunch buffet, Q&A with featured panelists, and post-symposium social with the panelists and graduate student ambassadors currently enrolled in the Financial Mathematics graduate program.
One of the students who attended, Berta Carnero, described the event as "not only super educational but also very fun. It was good to see and hear from such wonderful women and their careers. Listening to them was very empowering and helped me realize things that I want and don't want in my future career."
Another student, Lillie Martin, stated that it was "a unique experience that taught me a lot about career paths in Finance that I was previously unaware of. It was great being able to meet women in business and hear more about their experiences in education, internships, and the workforce. I am thankful that I had the opportunity to attend this conference!"