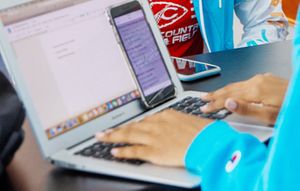 Catawba College is promoting a new "Catawba Cares" program for potential students and their families who are now facing uncertain economic times. In April, the College will begin a new online program that will offer the opportunity to take one of six college-level courses at no cost to the following...
Catawba College is promoting a new " Catawba Cares" program for potential students and their families who are now facing uncertain economic times.
In April, the College will begin a new online program that will offer the opportunity to take one of six college-level courses at no cost to the following:
All high school seniors who have been admitted to Catawba for Fall 2020.
All high school juniors and seniors in Rowan, Cabarrus, Davie, Davidson, Iredell, or Stanly counties.
All college students in Rowan, Cabarrus, Davie, Davidson, Iredell, or Stanly counties who attended another four-year college or university out of state and had an interest in attending Catawba College the last two years.
Each four-week class will earn the student three semester hours and is valued at more than $2,400. The classes are being offered April 8-May 5, ending before students return to high school on May 15.
"This is an option for high school students who are looking for something to do while schools are closed this spring," said Jared Tice, Senior Vice President for the College Experience and Dean of Students. Catawba will continue to offer a free class per semester for qualified local students during the 2020-2021 academic year through our stay local joint enrollment program. "A high school junior engaging in this program now could enter Catawba with nine semester hours of credit in Fall 2021," Tice said, realizing a savings of more than $7,300.
Secondly, the College is expanding its new " Stay Local" Initiative to include high school students in Cabarrus, Davidson, Stanly, and Iredell counties, as well as Rowan and Davie students, as announced earlier. This program guarantees at least 50 percent in tuition and fees in scholarships and grants to eligible students with at least a 3.5 weighted GPA. Tice added, "High School students admitted to the College from our local counties who have already received their scholarship and grant information were already given this program benefit."
A third part of the program allows student admittance to the College for Fall 2020 with at least a weighted 2.8 GPA after their senior year without submitting an SAT or ACT test score, reducing the College's Test Optional Freshman Admission from 3.25 GPA.
This "Catawba Cares" initiative is part of the College's efforts to bring educational opportunities to students involved in school closures and to help area families facing financial hardships as a result of the spread of COVID-19, the disease caused by the novel coronavirus. "We know that families are struggling," said Tice, "We are trying to support local families and are making further commitments to families and students to stay local."
Students may select one of the following classes:
SPM 1200 Intro to Sport Management: An introduction to the sport management profession with primary focus is on the sport industry, including professional sports, amateur and community sports, interscholastic athletics, intercollegiate athletics, sport marketing agencies, and sport tourism.
EXSC 1270 Health Science: An analysis of health dilemmas facing modern man and means of comprehending, alleviating, and/or solving the problems.
ENV 1112 Environmental Concepts and Issues: A study of broad issues of environmental science and the interaction of humans and the environment.
ENT 2501 Introduction to Entrepreneurship: A study in the foundations of entrepreneurship that can be applied to an individual venture, partnership, small business, or (as in intrapreneurship) a large organization. This course will develop the key elements around creating a business including idea generation, market analysis, business plan development, financing, learning and building an organization.
PSYCH 1110 General Psychology: A study in the major perspectives of psychology, with an emphasis on the nature and behavior of people and an examination of selected topics in the discipline.
EDUC 2000 Introduction to Teaching and Educational Technology: A study of teaching as a profession with emphasis on 21st Century skills, professional duties, policies, law and ethics organizational structure, and student needs.
Students may apply through the Abbreviated Application for Joint Enrolled Applicants. Students who have already made deposits or have been admitted would automatically be accepted. Other students who fit the criteria may be admitted on unofficial transcripts from their high school or their report card, or unofficial transcripts from their last college or university. Students must submit their official high school transcripts or official college transcripts by May 5, the last day of class. This gives them more time to collect the information, Tice said.
Catawba's plan to expand its new "Stay Local" program allows high school and college transfer students from Cabarrus, Iredell, Davidson and Davie counties, as well as Rowan and Davie, to receive 50 percent of tuition and fees in scholarships and grants, if they have earned a 3.5 cumulative grade point average (weighted) or are transferring from two-or four-year institutions with more than 24 credit hours and have a 3.5 cumulative GPA.
Brien Lewis, President of Catawba, said, "Catawba has always been about access and opportunities. The "Stay Local" Commitment is about ensuring that we provide access to 21st century learning opportunities for members of our host community."
Also offered to full-time Davidson County Community College or Rowan-Cabarrus Community College students is free tuition for one class at Catawba per semester and the following:
Free admission to all Catawba home athletic events, with their current college student ID (unless Catawba students are also charged, such as conference and NCAA tournaments).
The opportunity to become a member of and perform with the Catawba College Marching and Pep bands.
Free admission to all Catawba College theatre and music performances. The program also includes a scholarship for first-year students from Rowan and Davie counties who choose to live on campus. These students may apply and be accepted into the Woodson Scholars Program (funding provided by the Woodson Foundation) to receive additional scholarship towards room and board – up to $500 a year, renewable for four years. Though the deadline for this scholarship is due by January 15th, the College has extended this deadline until July 1st for this year.
The new weighted 2.80 GPA Test-Optional Admission change for Fall 2020 is for high school senior who feel their SAT or ACT scores are not a good reflection of their true academic potential. They are encouraged to apply via the Test-Optional Admission Program. This spring, SAT and ACT testing has been postponed.
After admission, enrolling Test-Optional students are required to submit official scores prior to the start of their first semester. These scores will have no bearing on the admissions decision or merit scholarship awards. Scores are only used for placement in first year courses and research purposes.
These students may apply online at www.catawba.edu/apply. Each candidate must submit the following supplemental items to complete their admission file for a decision to be made in addition to submitting their application:
Unofficial high school transcript(s) for the purpose of an admission decision. Completed official high school transcript(s) are required to submit prior to the start of the student's first semester. If a student has not or will not receive a high school diploma, they may present a General Education Development (GED) certificate or a certified High School Equivalency Diploma (HSED). NOTE: a notarized English translation is required when official records in another language
A writing sample. To fulfill this requirement, students will write a 600-word essay using the prompts provided at www.catawba.edu/testoptional. The deadline to apply for fall is Aug. 1. The deadline to apply for spring is Jan. 2.
For more information on "Catawba Cares," visit www.catawba.edu/cares or contact Alycia Parsons at (704) 63-.4587 or aparsons19@catawba.edu.
Due to high interest in the Catawba Cares Course Program, please understand that classes will be given based on availability once your application is received. Thank you for understanding and we look forward to serving our local community of high school juniors and seniors in Rowan, Davie, Davidson, Cabarrus and Iredell Counties in future Joint enrollment courses at Catawba College.
Apply as Joint Enrolled Student
Catawba Cares Course Program