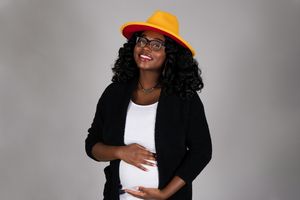 When Catawba College senior Destiny Stone takes to the stage in her one-woman show, "Nina Now," in late February, she'll be channeling the late singer, songwriter and civil rights activist Nina Simone. "I want to give the impression of Nina Simone, but I want to be more influenced by her than to be ...
When Catawba College senior Destiny Stone takes to the stage in her one-woman show, "Nina Now," in late February, she'll be channeling the late singer, songwriter and civil rights activist Nina Simone.
"I want to give the impression of Nina Simone, but I want to be more influenced by her than to be her reincarnated. She was a civil rights artist, but I'm going to give you more sides of her. She was a person first," Stone explains. "I will also do some of my own music, so if you attend the show, you get Nina, and then me, 'the now.'"
Free performances of "Nina Now" will be offered at 7 p.m. Friday, Feb. 23 and Saturday, Feb. 24, in Hoke Hall on campus, with Catawba College students treated to a special Rush Night performance at 7 p.m. Wednesday, Feb. 21. Ironically, February 21 marks what would have been Nina Simone's 85th birthday.
Stone, from Holly Springs, Miss., is a Popular Music and Music Business major pursuing a Worship Arts minor. She has worked to create "Nina Now" with friend and classmate, Sarah Smith of Asheville, a Music Business major, as their senior project. The two have collaborated as partners before when Stone released her second album, "Journey," last April. Smith helped draft press materials, connect Stone with Grammy-Award-winning sound engineer, Stephen Smith (Sarah Smith's dad), and Asheville-based music producer, Andrew Schatzberg. At that time, Stone called Smith "her encourager, supporter and friend," adding now that Smith is "organized, likes for things to be done right, and is a go-getter."
Smith contends, "I'm just happy to be part of it and that she (Stone) picked me."
If anything, creating the "Nina Now" show has brought the two even closer and more in synch. They hope both the show, "Nina Now," and the website that they have created in support of it, "NinaNow.org," will help "inform and educate," Stone says. The two collaborators believe their pooled efforts will help incubate "musical activism" and can envision taking the show on the road after its February debut.
When asked why "Nina Now," Stone and Smith had ready responses.
"The show is me trying to educate people about Nina Simone and the struggles she faced, to challenge people during the show, and to inspire people to be bold and stand up for what is right," Stone explains. "Unfortunately her (Simone's) career went downhill when she started speaking out and started to sing socially conscious songs."
Stone sees some similarities between herself and Simone when she reviews her own life's journey thus far and her repertory of original songs, including "Colorblind," a song about seeing others without the filter of race or colors. Stone, who like Simone, grew up in a strong faith tradition singing gospel music, came to Catawba from Mississippi after successfully competing for and being awarded Catawba's prestigious McCorkle Scholarship.
"The show and the website bring to light and remind people that we are still going through some of the same civil rights issues that we went through 50-60 years ago," Smith adds. "We want to bring to light that things aren't as changed as they should be. You can make a difference if you can bring them (social activists like Simone) back to life and show what they did in their lives."
It is a fitting tribute that the premier of "Nina Now," will occur on Catawba's campus during February, Black History Month. The show is designed to help educate show-goers about North Carolinian native Nina Simone who used her voice and her musical platform to point out social injustices and to spurn those she called "her people" into action and into to speaking out during the turbulent times of the civil rights movement.
Popular Music Professor and faculty advisor to Stone and Smith, Dr. David Lee Fish, shared his pride in his students. "They have immersed themselves in learning about Nina Simone and their collaboration has resulted in this wonderful product – a one-woman show and a website – that will help educate their fellow students and the public at large about the importance of speaking out and keeping the playing field level. It is very rewarding for me to witness their journey into the world of Popular Music and Music Business. A self-starter project like this assures that they are active participants in their learning and that at the heart of it all is Catawba's mission."
Born Eunice Kathleen Waymon on Feb. 23, 1933 in the North Carolina town of Tryon, Nina Simone was the sixth child of a preacher and aspired to be a concert pianist. At age 12, she made her concert debut in a classical recital. Her parents who were originally seated in the front row for the recital were forced to move to the back of the hall to make way for white people. Simone refused to play until her parents were reseated in the front. This incident contributed in her later life to her involvement in the Civil Rights Movement.
Simone was able to enroll in the Juilliard School of Music in New York thanks to financial assistance from supporters in her hometown. Several years later when she applied for a scholarship to study at the prestigious Curtis Institute of Music in Philadelphia, her application was rejected despite a noteworthy audition. Simone chalked that rejection up to racial discrimination.
To make a living and to keep her family back home from learning that her "career" often took her into nightclubs, she changed her name to Nina Simone, and accompanying herself on the piano, she launched her career as a jazz vocalist. Although gospel or church music, classical music and jazz were at her foundation, Simone's range of musical styles was broad, and included Blues, R&B, Folk and Pop.
Stone performs Simone's "Mississippi Goddam."
She recorded more than 40 albums, most between 1958 and the early 1970s. She made her debut in 1958 with "Little Girl Blue" and enjoyed a hit that same year with "I Loves You, Porgy." She began to address racial inequity in the U.S. in the songs she recorded in the early 1960s, including "Mississippi Goddam," her musical response to both the 1963 killing of Medgar Evans and the burning of the 16th Avenue Baptist Church that killed four black girls in Alabama. "Mississippi Goddam," she later said, was her "first civil rights song," and the civil rights message from then on became part of her performance repertoire, although her performances became more infrequent and her activism more frequent as she aged.
Simone moved from the U.S. to Barbados in the 1970s and lived as an expatriate for most of the rest of her life in Barbados, Liberia, Switzerland, the Netherlands and France. She believed that her civil rights activism irrevocably damaged her career even though she contended that her activism made her feel at her most vibrant and alive. She died in France in 2003 after two failed marriages, and is survived by daughter Lisa Celeste Stroud, an actress and a singer and the offspring of her second marriage.