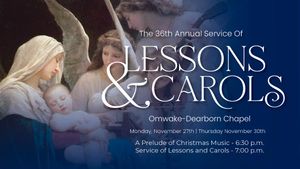 Catawba College will present its annual Service of Lessons and Carols for the 36th consecutive year on November 27th and 30th in the Omwake-Dearborn Chapel on Catawba's campus. The prelude will begin at 6:30 pm and the Service at 7 pm. Tickets are not required.
The Service of Lessons and Carols is based on the famous ritual that originated at King's College in Cambridge, England in 1919 which weaves beautiful carols of the season with scriptures or lessons relating to the story of Christmas.
Catawba's Lessons and Carols is seven lessons with scripture readings by the President of the Student Body, the chair of the Catawba Board of Directors, Catawba faculty, and members of the college administration staff.
Some of the carols this year include "E'en So, Lord Jesus, Quickly Come," "Once in Royal David's City," "Adam Lay Ybounden," "And the Glory of the Lord (Messiah)," "Mary, Did You Know?," What Child is This?," "Angels from the Realms of Glory," "Shepherd's Pipe Carol," "O Come, All Ye Faithful," "O Holy Night," In the Beginning," and "Hark! The Herald Angels Sing."
While tickets are not required, seating is limited and is available on a first-come, first-served basis. A shuttle service will operate from various campus parking lots, beginning at 5:30 p.m.
Lessons and Carols is made possible through the generosity of the Salisbury-Rowan community who provide funding for the music and decorations.
2023 Livestream - November 30th
6:30 p.m. (prelude), 7:00 p.m.