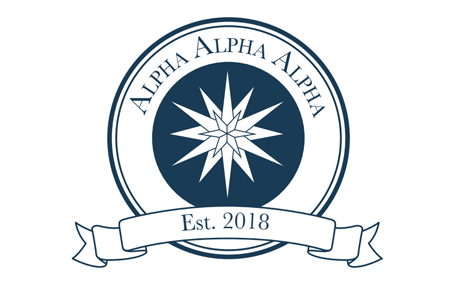 Catawba College's Alpha Alpha Alpha (Tri-Alpha) Honors Society promotes academic excellence and provides opportunities for personal growth, leadership development, and campus and community service for first-generation college students. First-generation means your parents, step-parents, or legal guardians did NOT graduate from a 4 year college.
Officers
Apply to be an officer of Tri-Alpha!
Mission
The Society encourages and rewards academic excellence among first-generation college students pursuing a bachelor's degree in accredited institutions of higher learning.
Eligibility
Students qualify for induction into Tri-Alpha if they meet the following criteria:
The student has earned at least

30

credit/semester hours (or

45

quarter hours) towards an associate's degree or baccalaureate degree AND
The undergraduate student has achieved an overall undergraduate GPA of at least 3.2 on a 4.0 scale.
Neither of the student's parents, nor step-parents, nor legal guardians, completed a bachelor's degree
Graduate students who are first-generation students can be admitted if they have completed the equivalent of at least one term of study (9 or more graduate credits) and have a GPA in their graduate program of at least 3.5.
Faculty and staff may be inducted as well. To qualify, they must have met the definition of a first-generation student listed above at the time they completed their bachelor's degree. Faculty and staff must be willing to serve as mentors for first-generation students.
A small number of alumni and honorary inductees may be initiated each year. To qualify, these inductees must have been first-generation students (using the definition above) when they completed their bachelor's degree. They must remain connected in some way to the institution which is inducting them— a member of the board or alumni association; the sibling of a current student; a volunteer; a donor; etc. They must have established themselves in their post-college lives in a manner that can be held up to first-generation students as something to aspire to, and must be willing to mentor first-generation students, if asked.
UPDATE: Honorary members need not have been first-generation college students; rather honorary inductees may be first-gen students with some kind of connection to the institution (as indicated above) OR clearly be a first-gen student advocate, mentor, or supporter while maintaining a connection to the institution which is inducting them.
When inducted, initiates receive a certificate of initiation and a pin. Honor cords for graduating students and members of the faculty/staff/alumni are available for purchase at an additional charge. Induction into Tri-Alpha is earned by outstanding academic achievement and lasts for a lifetime.
Eligible Catawba students are invited and encouraged to apply to Tri-Alpha!