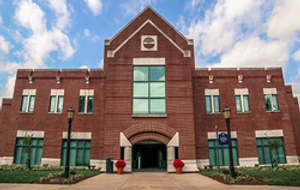 Students from Catawba College's Ketner School of Business attended the Metrolina Career Fair at Johnson and Wales University in Charlotte, NC on November 3rd. Attendees at the fair were able to network with potential employers and graduate schools.
"There were so many different organizations and it was helpful to see insight and job references for someone graduating in the near future," said Nicole Fleming, a Catawba Business Administration major. "This was very helpful to see insight and job references for someone graduating in the near future. This was very helpful in exploring the job industry which in preparing for what is to come."
Dr. Jennifer Yurchisin, Catawba Assistant Professor of Marketing, and Michal Frederick, Catawba College Director of Internships and Career Planning, helped organize the communication collaboration for the event. Students from Catawba College, Livingstone College, and Rowan Cabarrus Community College participated in the event.
"At the event, there were many job opportunities offered by different and unique companies," said Ofek Malul, a computer science major at Catawba. "Throughout the fair, I was able to introduce myself to many of them. I even got a job interview. The event gave me confidence in my ability to secure job opportunities with my education, knowledge, and skills. I look forward to attending more career fairs in the future."
---
About Catawba College
Founded in 1851, Catawba College is a four-year, private, liberal arts college conveniently located in Salisbury, N.C. Ranked as one of the best regional colleges in the South, Catawba is a learning community providing students unique opportunities to discover their vocation, calling, passions, and purpose as they prepare to reach their highest potential. The College offers more than 70 undergraduate and three graduate programs allowing students to explore diverse interests and create their own academic pathway. Additional information is available at catawba.edu.