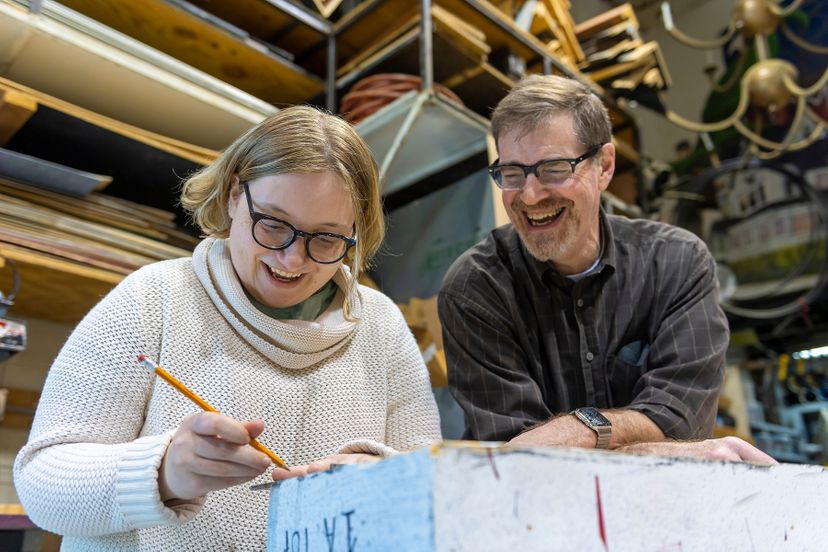 Theatre Arts: Design and Production
A Hands-On Fine Arts Degree That's Changing the Face of American Theatre
By pursuing the Theatre Arts Design and Production degree, you will be preparing to work in important behind-the-scenes performing arts roles, focusing on lighting, costume, and set design. You will become a stagecrafter, ready to begin working in the field immediately following graduation, or pursuing additional theatre or design education in graduate school.
---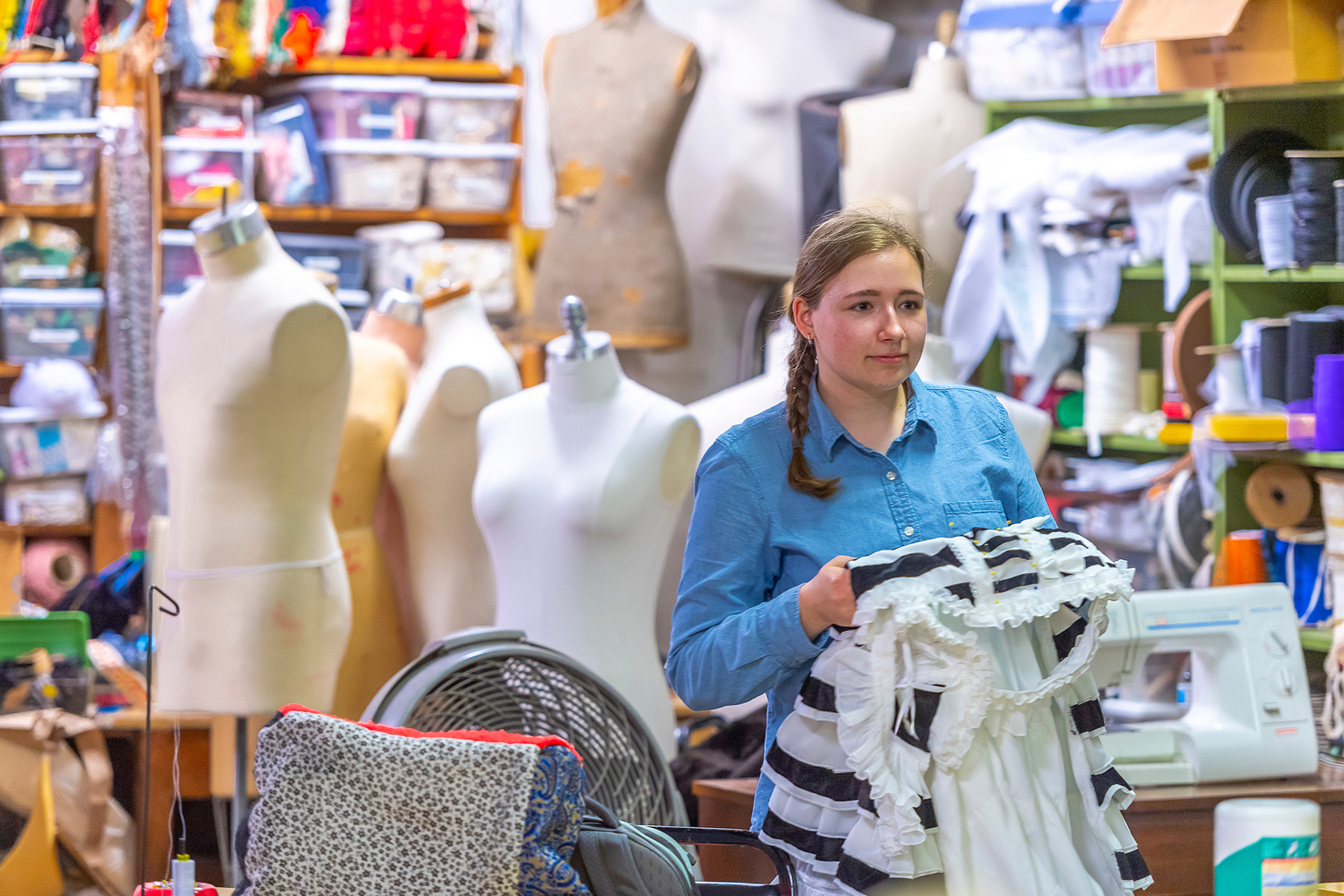 If you have an eye for design, a love of theatre and of the art of theatrical production, and the passion to see it all come together beautifully on stage, then this is the fine arts degree program for you to pursue. Theatre Arts Design and Production majors work with their hands, eyes, and minds, making theatrical productions truly come to life through set and scenic, costume, prop, sound, and lighting design. Your creative vision, direction, and execution will be the reason the audience gasps as the curtains go up.
As a Catawba Theatre Arts graduate, you'll be especially marketable because you'll be leaving our performing arts program with the depth of a focused skill set and the breadth that comes from a solid and enduring liberal arts foundation, helping you to connect your passion for theatre and design with the concerns of a greater theatre arts community.
Theatre Degree Programs
Learn about the Theatre Arts programs at Catawba College and why they are so unique. Fields of study include Theatre Arts, Design & Production, Performance, Musical Theatre, and Theatre Arts Administration.
Theatre Arts Facilities Tour
Take a student-led guided tour of the theatre arts venues and facilities at Catawba College.

Internships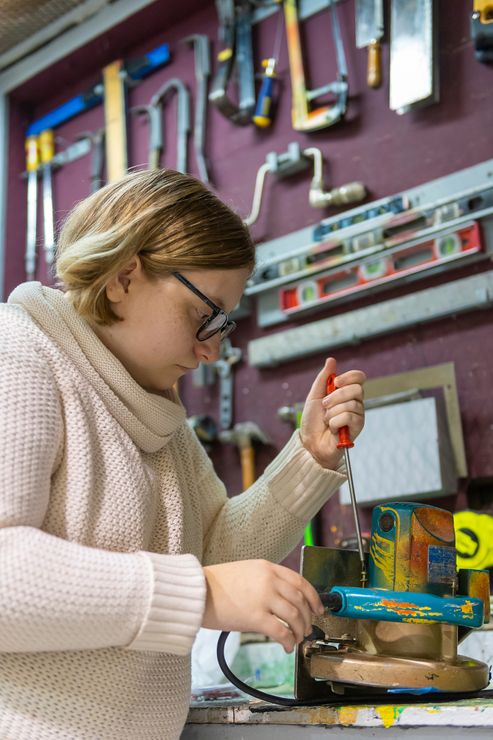 Internships
Catawba's Theatre Arts majors regularly intern with professional theatre companies like The Williamstown Theatre Festival, Interlochen Center for the Arts, and the American Shakespeare Center. Through a unique partnership with Lee Street theatre in Salisbury, North Carolina, CataLST, a semester-long internship, provides professional experiences and leadership opportunities in production and performance to exceptional Catawba College Theatre Arts majors.
Participate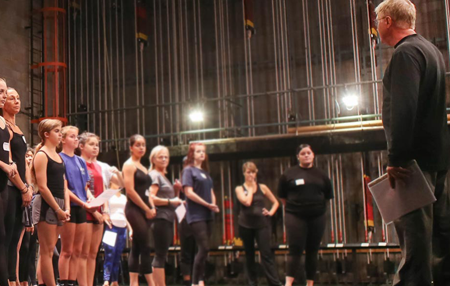 Let your passion for Theatre Arts thrive by participation in The Blue Masque, Catawba College Theatre Arts' student producing organization. Open to all students, Theatre Arts majors and non-majors alike, the Blue Masque hosts a variety of social activities, fundraisers, and service project each year and is one of the oldest and largest clubs on campus.

Through the Blue Masque Alumni Facebook page, the annual Blue Masque Hall of Fame celebration, and the Adopt a Senior program, Catawba's Theatre Arts majors connect with a vast network of Theatre Arts alumni who are working in all areas of the performing arts both nationally and abroad. Catawba Theatre Arts alumni offer graduating students employment advice, provide locale information, and often serve as a conduit to help performing arts degree grads land an audition or a job interview.


Catawba College Theatre Arts students frequently aspire to join Catawba's Chapter of Alpha Psi Omega, the national Theatre Honor Society. Alpha Psi Omega is an active social and service organization for aspiring Theatre Arts professionals whose primary aim is to encourage dramatic production at every step in a person's academic career.


Net Price Calculator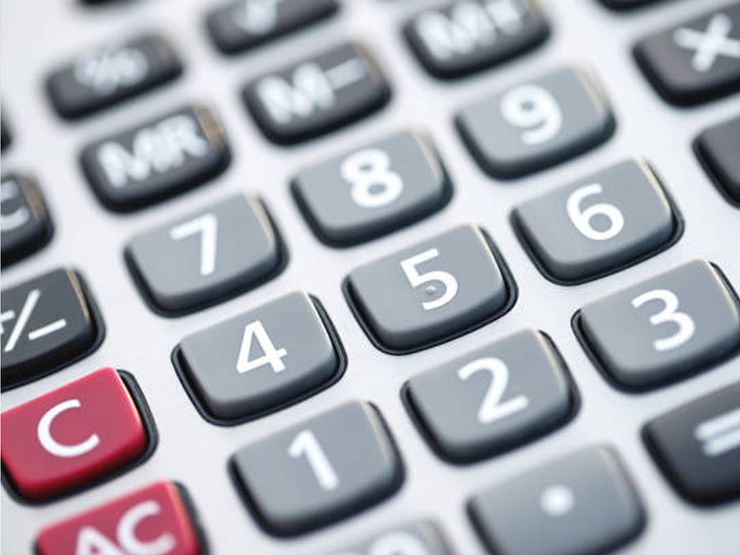 Net Price Calculator
Estimate your share of college costs and how much financial aid you may be eligible to receive
Our calculator is designed to give you an early indication of what type of financial aid you may qualify for if you were attending Catawba College as a first-year, transfer, online, or graduate student.
Outcomes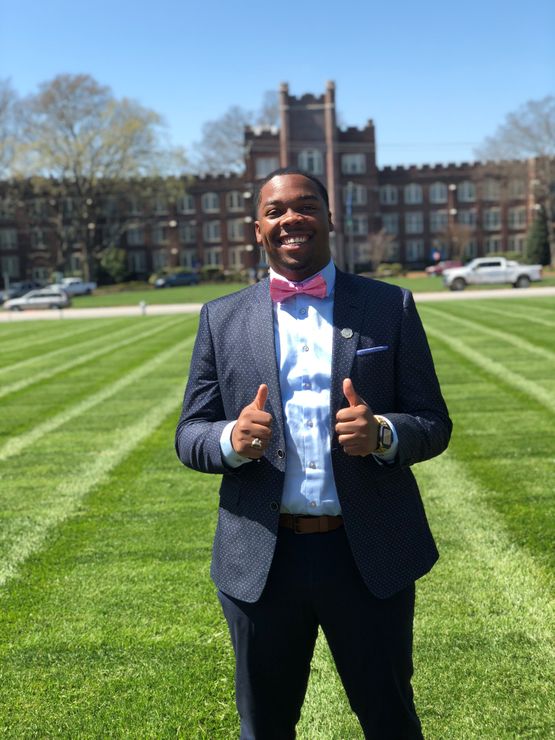 Outcomes
Careers - Catawba College graduates with Bachelor of Fine Arts Degrees in Theatre Arts Design and Production are trained to be adaptive and flexible while exercising their technical skills and creativity. This is why theatre companies hire Catawba College performing arts graduates in such great numbers. Our BFA degree graduates work in professions like these:
Entertainment and Lighting Technician, Walt Disney World
Costumer, Houston Ballet and Shakespeare Theatre Company
Freelance Costume Designer
Illustrator
Graduate Schools - Catawba College performing arts alumni who have completed Catawba's Theatre Arts bachelor of fine arts degree program have been accepted to graduate school at the following institutions:
University of Southern Mississippi
Accademia dell'Arte in partnership with Mississippi University for Women
University of Oregon
University of Georgia
UT Austin
Mary Baldwin University
NYU Tisch School of the Arts
Similar Programs
Interested in Design & Production? You may also be interested in these programs - consider a double major, or adding a minor or two.
Contact Us
Department of Theatre Arts
Location
Theatre Annex
Robertson College-Community Center